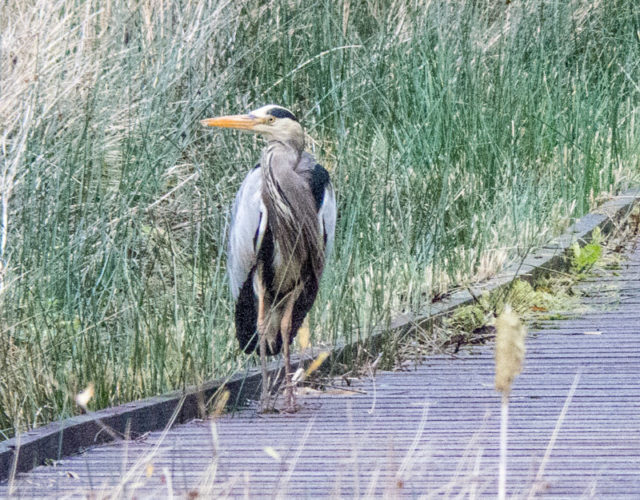 It was another sub zero morning, but unlike recent days, it soon clouded over and the temperature rose … a bit.
After lunch we drove to Bishopbriggs to look for a photo printer at Currys superstore. They did have a few, but although they had one on show that was on my short leet, they didn't have any for sale. The usual message of "It's out of stock, but we can get it for you in two or three days". Maybe I'll have better luck in Argos tomorrow. Got so fed up I even went to ASDA to see if they had anything worth while – they didn't.
When we came home I prepared tonight's dinner, my dinner, that is which was Shin of Beef. Stuck it in the oven and went out for an hour in the fading light to see what was worth photographing in St Mo's. Not a lot as it turned out. Spooked Mr Grey who flew around the pond and then settled back on the boardwalk, almost where he had taken off from. He posed there for a while which was very kind of him, otherwise I wouldn't have a PoD. I'd intended going out for an hour or so, but had forgotten my hat and gloves and the light was really failing now, so I made my way home after half an hour.
Watched an immensely boring final F1 GP of the year. Had dinner, and yes, the shin of beef was lovely. Watched Susan Calman's sarcastic and very funny exit from Strictly. My, what exciting lives we lead.
Tomorrow the new suite gets delivered so we have to get to bed early tonight. Our four hour delivery slot is from 7am until 11am!