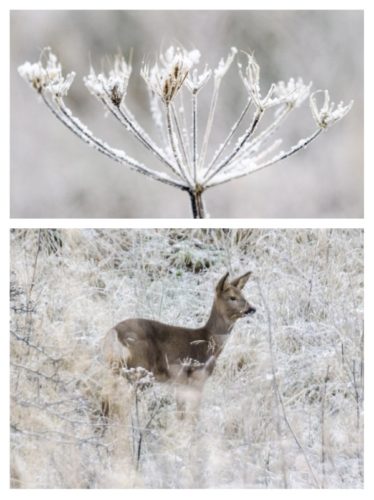 Well, for once I stayed true to my intentions. This morning I went for a cold walk in the ice and snow.
Spotted a deer standing near a pond in St Mo's, not the big pond, but a smaller one deeper in the trees. Got a few shots of it before it took fright, bringing a bigger deer with it. I'd have liked to have got a bit closer, but that wasn't going to happen. I was wearing my red Bergy jacket and it doesn't blend in well with the dark trees. However I did get a few shots and that was good because I hadn't seen any deer in St Mo's for ages. However, it was the high key photo of Cow Parsley that won PoD.
Came back and had a shower while Scamp made some tea and toast. Lovely! That is both Scamp and the tea and toast were lovely! Scamp thought we should go in to Glasgow on the bus and I thought that was a good idea too. We took the slow bus, the X3 in and surprisingly, the driver (David, I think) was an FP. Glasgow and especially JL was absolutely jumping. I heard one woman sayin "They're going absolutely crazy over there." I don't know where 'over there' was, but folk seemed to have decided that today was the last shopping day before Christmas, grabbing anything they could get their hands on.
We decided the Glasgow visit was a bad idea, but we'd go for lunch anyway and Pulcinella was nominated as today's restaurant. It was a bit cold in the restaurant, but the food was as good as ever. Scamp had Minestrone and Spaghetti Pulcinella and I had Pasta e Faglioli and Penne Amatriciana, all of which was excellent.
We walked back up to Sauchiehall Street and Scamp investigated clothes shops while I browsed the book shop. After that it was coffee, a cake and home on the X3 again after just missing the much faster X28. All of this was done in a temperature that claimed it was 2ºc. I don't believe that.
That was about it. When we got home I tried again to get the Photos app to do what I wanted and eventually gave up. Fortunately I chanced on a website that said it was still possible to download iPhoto. I was never all that enamoured of iPhoto, but I was sure it would do what I wanted. I was right. It is a much better photo management tool than the dire Photos will ever be until Apple get their finger out and make it work properly. The upshot is that my 2018 calendar is almost finished. Well, version 1 is almost finished. There will be further versions before we get to print.
Mentioning print, I think that will be tomorrow's task, the testing and price checking of the short leet of printers to replace the old Canon Pixma whose demise I still mourn.