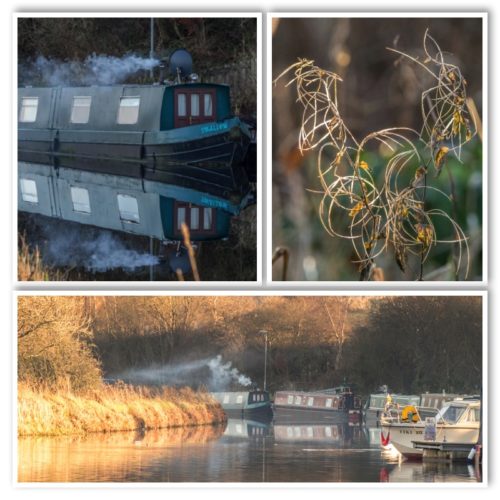 A fairly early Skype with the Birthday Girl this morning set the tone for the day.  Nice to see Hazy looking good and enjoying the day.
By the time Scamp had returned from the physio I had finished my Sudoku for the day and was ready for lunch with the prospect of either a cycle run or a walk afterwards, now that the sun had decided to shine today.  The die settled on walk and I risked a walk along the canal then returning along the railway.  Walked east along the canal to see if there were any photos to be had at the marina at Auchinstarry.  At first I thought this was a pretentious misnomer, but now it actually does look like a marina.  Not housing any yachts, but a few cabin cruisers and a great deal of longboats and also a few houseboats.  Very upmarket for the lower reaches of Croy.
After I'd got my fill of the floating architecture, I headed back west towards Twechar and cut across the forest plantation and out along the old railway, but there was little to see there, so as it was getting dark, I walked back to the car and got the call to visit Tesco on my way back.  Scamp wasn't feeling too good with what might be the beginnings of a cold, and as we'd dined out yesterday and had tentative plans for lunch out tomorrow, we decided to eat in tonight.  I had what was probably the worst ever pizza from Tesco.  Now I know why the price was reduced!  Scamp had the healthy option of fish fingers and a fried egg.  Masterchef Professionals eat your heart out!
That, I'm afraid was it for the day.  We tried to watch Big Fish on Netflix, but decided either it was trying too hard or we weren't trying hard enough.  It was consigned to the bin, like only a few others so far.
Tomorrow, who knows?  Today's weather was good and if we get the same tomorrow and Scamp is feeling OK, it might be Embra.  If not it may just be a quick visit to Stirling for Sunday's dinner.