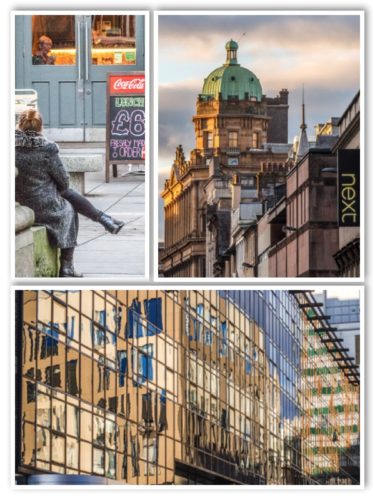 What a difference a little bit of sun makes and we had a fair bit of the big white ball in the sky today.  The grey had gone for a wee while at least.
We made the most of the sun by getting the bus in to Glasgow.  Actually, we took two buses in to Glasgow.  Scamp went in early and I fitted the new wipers to my car.  Surprisingly, it only took me a few minutes.  Sometimes it pays to buy the posh, Bosch wipers because they are so much easier to fit than the cheapo alternatives.  After fitting the wipers, I just managed to catch the bus, a different bus, in to Glasgow.  On the bus I discovered that I'd left my Kindle at home.  Worse than that, I'd left my headphones in my other jacket, also at home.  With nothing to distract me, I sat in the front of the bus and soaked up some of that sun.
I went to Millers art shop to get a couple of pens.  Before that I got myself an emergency pair of earbuds from HMV.  Skullcandy were always the cheap end of the market as far as I was concerned until I had the same problem I had today and had to buy a cheap pair of earbuds and succumbed to Skullcandy.  They were brilliant.  They are much better than my Sennheiser pair which are way to harsh and tinny sounding.  After this spending spree, I met up with Scamp and we went to lunch at The Italian Kitchen in Albion Street.  It was outside TIK that the reflections on the Herald building attracted my photographic attention.  After lunch we went our own merry way again.  Anyone watching would be wondering if we had fallen out, but that wasn't the case, it was just about giving each other space.
I wandered around the city centre to get some more photos and even got a sketch of sorts done from the GOMA, then I wanted a look at a 21" iMac in the Apple shop.  The newly designed Apple shop, where there are no sales counters.  The Apple shop where a sales person was hogging the 21" iMac I was wanting to look at while she sold an iPhone.  Now I realise that the purchase of an iPhone is important, but wouldn't it be a much better idea to have a sales desk where this transaction could take place.  It's a bit of a barn of a place and it gives you an idea of the way Apple want things to go.
No Genius Bar
No sales desk, as I've mentioned
No Techys desk
No place to queue or sit while you wait to speak to a Techy
The other thing I noticed about this newly designed Apple store is the proportions of different machines on display.  Lots of space given to iPads and iPhones acres of deskspace given to Apple watches and entire tables given over to Macbooks of various kinds.  Only five desktop  computers on display, and that space itself being used as a sales point  It looks looks as if Apple don't want/need to sell desktop computers any more.  Not a comforting thought.
Just managed to sneak on the X3 as it was about to leave and it turned out that Scamp was on the previous one, so we were running along behind each other heading for Cumbersheugh!  How sweet.
Hoping for another sunny day tomorrow, but today was good, so I shouldn't be greedy.