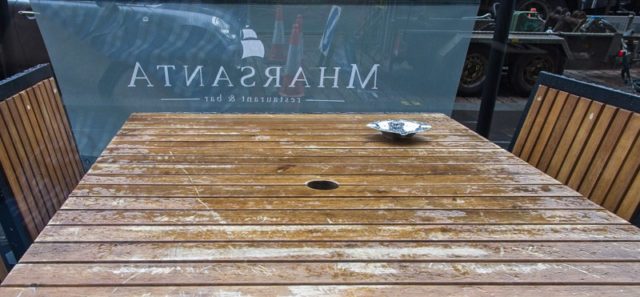 Woke to the wet stuff this morning.  Oh well, at least we won't need to water the garden tonight.
Since there was no Salsa class for us tonight because Jamie Gal wouldn't be there and also, there was no 7.30 class.  It seemed pointless to travel in to Glasgow for just one class, and not one at which we'd be learning anything new.  With that in mind Scamp suggested that we take the bus in to Glasgow for Jive and Ballroom.  Also in her suggestion was that we could have lunch in Glasgow.  Sounded good to me, just as long as I got through the dancing part.  I don't really mind  the different moves we're learning, it's just that the moves keep changing slightly depending on which of the teachers is teaching.  Also, just when we've got to grips with the Seven Deadly Spins, they start inserting other moves in between the spins.  People are becoming confused and I can understand why.  Anyway, we plodded off to Condorrat to get the fast bus to Glasgow.  That meant we'd got there early so we went for a wander round the centre of the town before we came to Blackfriars.  Free dance to get started and we tried a newer routine than the Spins then made a real hash of it.  Michael decided we should go back to the Spins.  That's when they started changing the first of the inserted routines which left all of us confused and looking at each other.  This was glossed over and Michael seemed to decide he'd had enough and left to go to the physio.  Next up was Quickstep and that wasn't too bad, in fact I managed the Pendulum and finally worked out  how the Double Lock and Check worked.  So, started off badly, but it became an improving situation.
Next to Blackfriars is a Scottish themed restaurant called Mharsanta.  We'd promised ourselves we'd go for lunch there one day.  Today was the day.  Glass of wine for Scamp and a pint of IPA for me to start with (benefits of travelling on  the bus!)  Chicken Goujons for Scamp's starter followed by her leveller – Fish 'n' Chips.  First main course she has virtually anywhere.  I had Haggis Scotch Egg followed by Steak and Sausage Pie.  Both our meals were excellent.  However, we simply must go back some time because one of  the mains is Mince 'n' Mashed Tatties plus a Poached Egg on top.  The only people I've seen do this properly were my mum and Scamp.  Now there's no way on this earth that they could cook it better, but I'd like to see how close they could get!
Got my hair cut in Nile Barber then coffee in Paperchase where they do a very good Americano and apparently a Latte too, before we got the bus home.  A fast bus, but not as fast as the ultra speedy one in.  That was the way the day went.  An improving situation indeed.  It rained all day.
The view from the restaurant made PoD.
Tomorrow I've got the dentist at midday other than that the coast is clear.