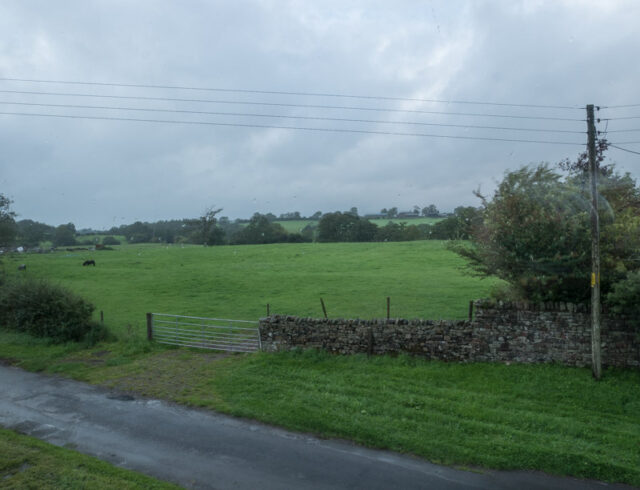 Waiting, waiting, waiting for the party to begin.
Not exactly a party, but the start of a week in Engeland! We were leaving around 2pm to coordinate with JIC and Sim who would be leaving earlier, except, as usually happens, they were delayed, but we left around 2pm anyway, because we were excited and ready for a fun-filled week in the North Yorkshire Moors. Even the very name reminds me of The Slaughtered Lamb pub. Nah, it will be fine. Anyway, it was a chance to test out the new Micro, 'Blue' to put it through its paces and hopefully achieve a better mpg than the Red Juke was capable of.
We drove through the rain and little bits of sunshine all the way down until we nearly reached Penrith, that's when the traffic started backing up on the slow lane of the M6, hundreds of yards before the first countdown marker for the exit. We didn't mind all that much, we had plenty of time. The problem was two different diversions, both of them funnelling traffic into the exit we were taking. Coupled to that, it was Friday, early finishing day for work and school so once you'd factored that in, it was really surprising that only half an hour after we met the holdup, we were back on our way again after forcing our way through two roundabouts of merging traffic. Not an easy thing to do in a nearly new car with folk thinking they could cram you out of the way because you don't want to scratch a new car, do you? I didn't, but I hate queue jumpers too. So I did what I usually do in these cases and drove even slower to make them wait.
Got to the house and were just investigating the rooms when JIC and Sim arrived. That holdup had balanced our times so they weren't that late after all. I'd grabbed the garage as our parking place to leave room for their Volvo. Only fair, I thought. To the winner, the spoils.
The PoD was the view from the upstairs lounge. As you might just be able to see, it was still raining.
Weather fairies say the weather will improve tomorrow. Let's hope so.