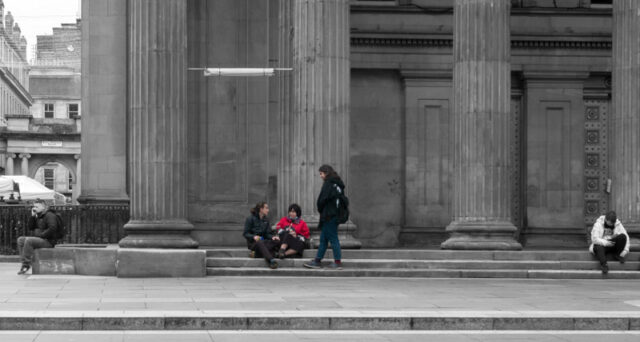 Today we were heading for Glasgow.
A bit of window shopping in JL but nothing even barely whetted my appetite, so we went for a walk down Bucky Street and then I suggested we see if we could get a table in Paesano. We got there just after it opened, so we could get a table. We had our details taken and our temperature checked and were deemed fit and healthy enough to eat a pizza. We had our favourites. Scamp had her own design No1: (Tomato sugo, oregano, olive oil, no garlic, no cheese, extra rocket.)
I had a No 3: (Tomato sugo, capers, olives, anchovies, mozzarella and olive oil)
They arrive about three minutes after we ordered them. Even after we had finished and paid and were on our way out, the place wasn't nearly as busy as it used to be. Surely this new-normal can't stay this way. Things must change.
I had a wander round CassArt and got the Posca white acrylic paint brush I was looking for, a sketchbook of kraft paper and a white marker. Rather a frugal amount. I was being careful. Just a few things I can't get anywhere else.
Had a coffee in Nero but it felt watery and tasteless, partly because it was filling the entire cardboard cup which must have been a 'large' size and the server probably thought that a 'regular' in that big cup looked a bit mean. Next time I'll ask for a 'regular' size in a half cup. Maybe I'm spoilt now by my own version of coffee from the De'Longhi, but before Covid, Nero made good coffee. This stuff tasted like Costa. Not impressed.
Grabbed a couple of street shots outside the GOMA in Queen Street, but wasn't all that impressed with the result. Also tried to get some reflections from the frontage of the new Queen Street Station, but there was too much rubbish lying around, destroying the effect. Once it get's cleaned up, possibly by the end of the century it might be possible to get better shots. As it was, a digitally altered shot of the GOMA got PoD.
Had the second batch of our potatoes for dinner tonight. Mine with bacon and mixed beans, Scamp chose not to have the bacon and stuck to Potatoes and Beans. Both were very nice, but then again, these were Artisan Potatoes!
That's about it for today. Tomorrow there is rain forecast and lots of it too. Lovely!