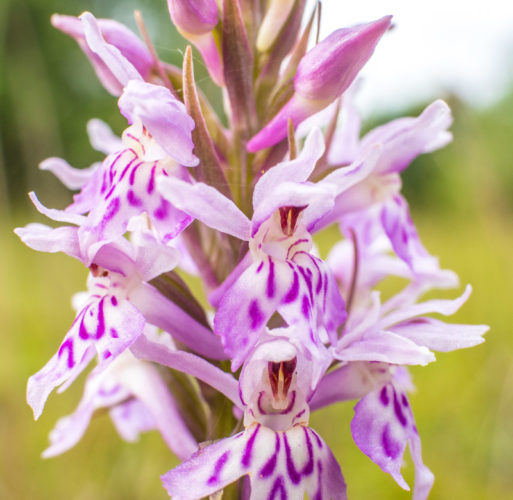 Up and out by 10.30 to return the Ambulatory Blood Pressure Monitor to the hospital and say a fond goodbye (and good riddance).
I know that, despite what my Fitbit says, I didn't get much sleep last night with the bloody thing beeping every hour and then pumping the cuff up to measure Scamp's BP. I dread to think how many minutes sleep Scamp got. Anyway, took it back today and noted what the media would call 'a high profile police presence' across the road from the hospital. Checked on the BBC site, but couldn't see anything to warrant it. Could it be something to do with a suspected shoplifting in Aldi yesterday? Might be.
Left Airdrie and went to Stirling to pick up our holiday tickets from the dazed and confused Ramsay Travel. They really are almost comic in their slapdash approach to this holiday booking. I think we'll go to a real travel agent next year DV.
While we were in Stirling we went to The Fat Cyclist cafe and had a light lunch Toast and Scrambled Eggs for Scamp and Roll 'n' Sausage for me. Service was slow, but the food and the coffee were good. We'll be back.
Also while there, I got a new(ish) sporran for my Lord of the Isles national dress set. This one looks like a real dress sporran and was a bargain as an ex-hire.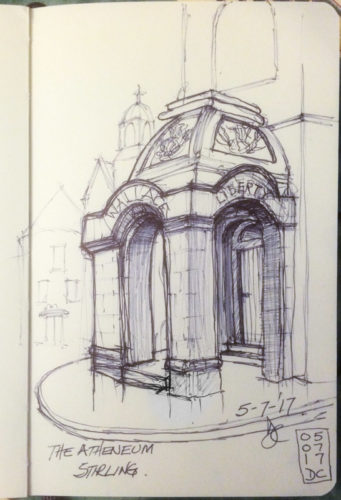 Finally, I got a sketch done of the entrance to the Atheneum in Stirling, while Scamp was almost being successful in purchasing a pair of sandals.
When we got home I went for a walk to St Mo's to get today's PoD. It's a close-up of a wild orchid. They are all over the place just now and look almost like little hyacinths. The photo was taken on the Oly 10 with the 20mm prime and a 10mm extension tube, allowing me to get really close. The quality of results from that lens is superb.
Salsa tonight was covered by Cameron. He was losing his temper a bit in the middle of the class and showboating a bit too much I thought, but he's young and you have to cut him some slack sometimes. Much, much better than the other alternative – Colin!
Dentist in the morning tomorrow to repair the damage to cap I pinged off about three weeks ago.