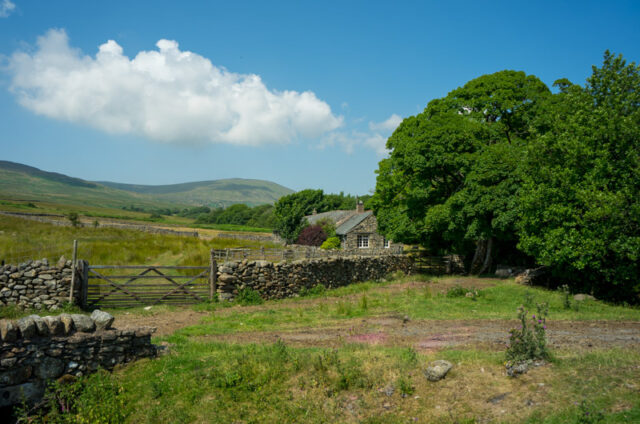 Scamp wanted milk Sim wanted tonic JIC wanted rosemary, fresh preferably.
We drove down to Millom by the 'high road' which the sat nav doesn't understand. Too small a road and with no road number. Once there we went to Tesco. Got the milk and some other stuff but no elderflower tonic to be found and no fresh rosemary.
Drove down to Broughton and parked down near the livestock market, then found the wee deli where we'd got the cherries earlier in the week. Woman said there might be rosemary in the chiller cabinet in the back of the shop. The guy who was serving went to look said if there wasn't any there, he's cut us a couple of sprigs from the garden. That's good service. Scamp bought two bottles of wine and one of gin.
Came out and decided it was far too warm to walk anywhere, even through the avenue of trees to the pools we'd found a couple of days ago. Just came home by the new road and stopped at the bridge just before the zig zag through the farm. I realise that means nothing to everyone except those who have driven that narrow road. Got a few photos there of a couple wee cottages that stand by the side of a river, half covered by a stand of trees. One of those photos. Back in the car I though "Isn't air-con a wonderful thing"!
Spent the rest of the day lounging around. Jamie made Fish with Carrot Chips and I made Cheesy Tear & Share bread. JIC and Sim are leaving tomorrow night. They have business to attend to at home and also it will be cooler driving in the evening.
I took some moody shots of the moon which was looking good tonight, but the midges were busy again so I didn't linger.
May go looking for stones tomorrow.