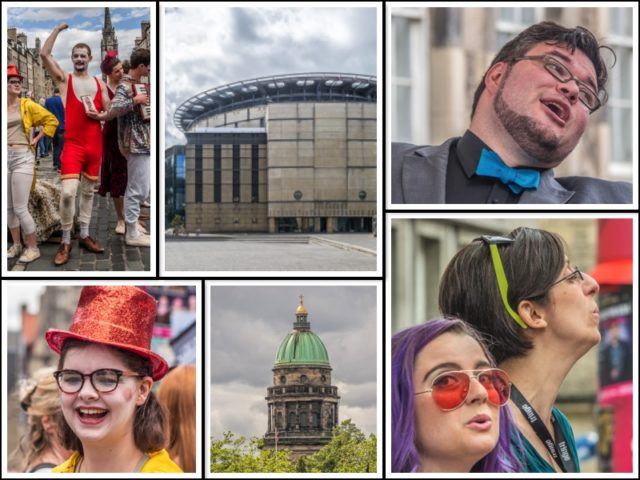 Last night was a late night. It was Saturday morning about 1am when I finally dragged myself to bed. As a result, we woke late this morning, or should I say 'later' this morning. We had intended to go to Edinburgh, hereinafter referred to by its proper name of Embra. It was touch and go whether we would go or not, but finally we decided that we should just go, as there was nowhere else that interested us.
In Embra we walked through the Conference Square canyon.  I hadn't realised just how ugly the Conference Centre was.  What a waste of concrete.   From there, up the Grassmarket through the crowds and on to the Royal Mile. That's where the real 'Maddies' were. For a fair few blocks, the Royal Mile is pedestrianised at festival time and so it was today. Scamp was interested in a couple of groups of a cappella singers and I was just interested in taking photos of the nutters.
The fringe is interesting, but after a while you get fed up listening to the hype from these self centred eejits and have to get back to reality. That is what we did. We walked down The Bridges and on to the St James Centre. What a disaster that is now. All that's left in the entire centre is John Lewis. Everything else is closed. It appears that the whole site is being rebuilt while the JL shop remains open. It is a really depressing site (and sight) and will remain that way for FOUR years. The new centre isn't due to open until 2020. There are loads of 'artists impressions' or AutoCad renders of the proposed new retail opportunity. It looks very smart, but it is very difficult to work out what you are looking at as there are no landmarks on the beautifully rendered artwork, and let's face it, it's Embra. It has a few landmarks!
From the disaster that was the St James Centre, we walked through St Andrew's Square (there are a lot of saints in Embra!) and on to George Street. Like the Royal Mile, part of George Street was pedestrianised for the festival with lots of drinks venues pitched on the roadway. We stopped at one for a beer (an expensive beer at £2.50 for a half pint!) and that's where the 'Serendipity' came in. We were sitting at a table across from an older woman. As usual, Scamp got into conversation with her, but I must admit that for once she didn't instigate it. It turned out that she was on a bus tour to see the Tattoo and she had come from Cambridge. She knew Baldock and also Little Downham. However, she had lived in South Wales before she got married and knew where Scamp's aunt lived in Maesteg. Thirdly, she had been to Inverness last year and had gone on another bus tour to Skye and stayed in the Pink House in Portree! It was almost as if she had read our minds and plotted three places where we had synchronicity.
When we left her and George St then turned onto Princes Street, we could feel that the weather had turned.  It was cooler and there were spits and spots of rain in the wind, so we headed for the train and home. No lunch out today, but dinner was provided by Golden Bowl and was delicious. Rain and high winds forecast for tomorrow and I've got an appointment with the physio to see what's wrong with my shoulder. Maybe he'll just give it a rub with the magic sponge and it will be as good as new. Maybe!