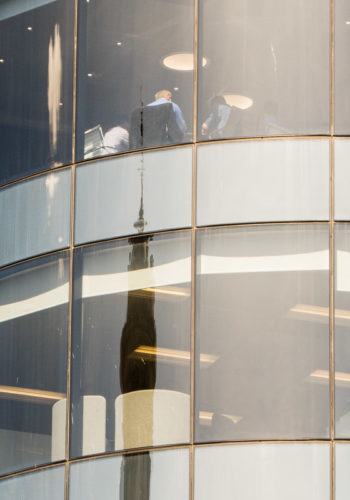 Today we woke to sunshine and it lasted all day, although rain is forecast just before midnight.  I'm hoping to be in bed by then, though, because I've been going to bed in the wee small hours for the past few days.
I had an appointment at John Lewis this afternoon for a guided tour round my sewing machine, not actually mine, by the same model.  The lesson took just under 45 minutes and I did learn a lot, like when and why you use stretch stitches, how to make button holes and how to clear that annoying birds nest I always get when I finish a row.  Simply.  Glad I signed up for it.
Before the lesson we had tea and a sandwich in the cafe at JL.  Such a lovely view up Sausage Roll Street from the JL building.  As Scamp said, you don't appreciate the architecture from street level.
Walked down Bucky Street along Argyll Street and back up Queen Street and that's where I saw my PoD.  Like I said in the Flickr description: "Saw the photo and knew the title before I took it."  The man in the High Castle.  It was taken with the Teazer and I'm very pleased with it.
Back home for dinner, then we were out again to Salsa.  Great fun in the beginners' class watching their faces when Jamie G showed them tonight's surprise move (Sombrero) and told them they had just over 3 minutes to perfect it before they would dance it, but dance it they did and very well too.  There's a time to be cautious and a time for just going for it and tonight they threw caution to the winds.  Great class, great fun.  Advanced class did Tornado which is Scamp's favourite move of all time.  It was great to go over it again slowly and get the timing just right.  Sometimes I just bomb through it and it becomes a bit clumsy.  It was nice to see it with all its hard edges, clean and tidy.
Tomorrow?  Looks like rain.  Don't know what we're doing.