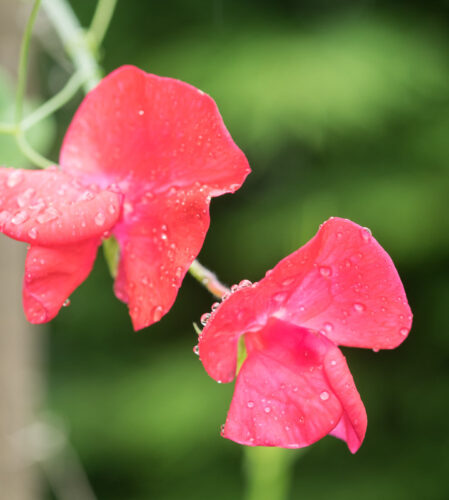 You expect the storms in the autumn or the winter, but in July? Well, it is Scotland.
It was a windy old night last night and this morning was much the same. Thankfully as the day progressed, the storm winds regressed. Not so the rain. It pounded us relentlessly all day, with just the occasional sunny spell to trap the unwary and entice them out and then ambush them with another heavy shower.
In the afternoon I was enticed out but given the warning from Scamp to get home quick if the rain started. I ignore the warning, of course, but then the camera started acting up after an accidental finger press on the screen changed the setting to stupid mode and it started shooting video instead of stills. Eventually I gave up and reset it to default position, but by that time the good light had gone and so had the soldier beetle I was intending to photograph. I gave up. I had a few shots from the morning when we had that strange Scottish mixture of sunshine and showers … at the same time. The flower shots would have to do and I started to plod my weary way home. Reached the door just as the really heavy rain started. Scamp thought I was just obeying instructions and heading home before the rain came. I had to disabuse her of that notion and told her the story of the wayward camera and Stupid Mode. I don't think she believed me.
Dinner tonight was Steak and Kidney cooked by my own fair hand. Scamp had an omelette. Both served with Jersey Royal potatoes. While I'd been out wrestling with the camera, Scamp had baked a Sultana Cake and we had a slice each with custard for pudding. Lovely!
Watched the Austrian GP, the first one of this Cover-19 season. Full of thrills, spills, bad tempers and lots of crashes. Nobody hurt thankfully, some egos bruised and a lot of very expensive equipment spread all over the race track. Let's hope they all cool their heels before next week's re-run.
Two of Scamp's Sweet Peas made the PoD. The first two to flower and both survived todays gales. It was meant to be a rose for today's sketch, but it didn't quite make it. Perhaps it will be better tomorrow. The Lockdown Library is stalling a bit and maybe needs a rest. Maybe I should break out all the new paints and use them tomorrow. Also tomorrow, we're hoping to go for a walk somewhere that isn't Cumbersheugh based, because actually Lockdown had been folded up and put away in its box. The box hasn't been locked yet and we've been well warned that Lockdown may yet come out of its box and restrict our movement again.