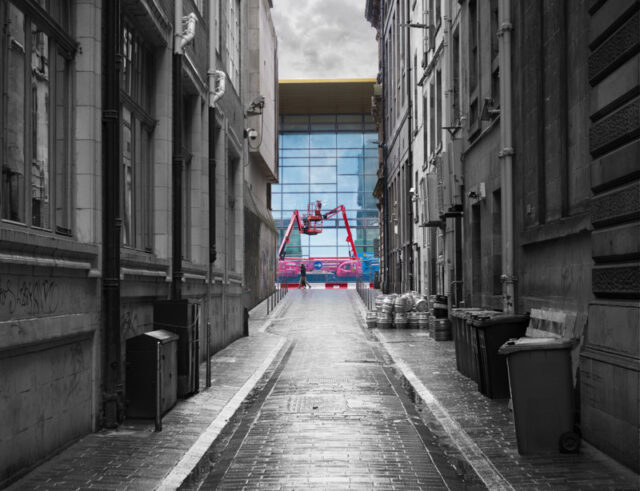 We should have been in foreign climes today. We felt as if we were.
We should have been halfway through a Mediterranean cruise if the dreaded Covid-19 hadn't reared its ugly head and condemned us to three months of purgatory. Foreign countries always make us feel slightly uneasy. Most of the town and cities look quite familiar in a way. The buildings and parks, even the open space, the piazzas and squares look almost familiar, but underneath that familiarity is an undercurrent to unease because there is that constant unfamiliarity too. Things are not quite how they seem. I think that's how I felt this morning, visiting Glasgow.
We parked at the Buchanan Galleries which in itself was strange, because there were no queues at the ticket machine. There were plenty spaces on all the levels up to three. After that the ramps to the higher levels were cordoned off. Neither of us has ever seen it so empty. Walked down the stairs, past the shuttered fire doors cutting off entrance to the Galleries themselves. Then we walked out into Glasgow itself.
We walked down Buchanan Street and although there were plenty of people there, it felt somehow unsafe. Great long snaking queues of people waiting their turn to enter the House of Apple. All of them standing in the rain waiting for their chance to hand over money, or more likely type four digits into a card machine to get their new phone, iPod or laptop. Down on Argyle Street longer queues stretched out from Primark. There was no sale on, just again the desperation to 'buy things'. Scamp and I reckoned the queue was about 300m long. This was the first Saturday since some shops opened their doors and everyone wanted to shop.
Me? I wanted to replenish my paintbox. I'd run out of about five of my fifteen colours and the remainder were getting a bit low in their wee pans. I managed to get a full set, plus a free Kolinsky sable for just slightly more than I'd hoped to pay. That's the cost of 70 odd days of Lockdown paintings. I tried using the student quality Cotman colours, but they are much weaker than the professional quality ones. It's worth paying the extra. Drove home through an improving weather picture, glad to be away from the strange land we used to know so well.
After lunch we went for a walk in St Mo's and stood watching the Tufted Duck chicks learning to dive down for food in the shallows. Such tiny wee things, they seemed right at home on the water, but were carefully monitored by Mrs Tufty.
Later we walked over to Condorrat for a Fish Supper (me) and a Black Pudding Supper (Scamp). Real treat to eat food that someone else has made. While we ate our suppers we watched the qualifying for the Austrian GP, the first one this year. What a shame that Vettel has been dropped by Ferrari he will be sadly missed 🤣😉. Hopefully Ferrari's actions will lead to fewer crashes and a safer F1 next year when he leaves.
Today's PoD was taken in Anchor Lane in Glasgow city centre and was dunked in buckets of Lightroom and ON1 2019 before being hung up to dry in Flickr.
Tomorrow looks like a wild day. The wind is already starting to gust. I don't think we'll be going far.