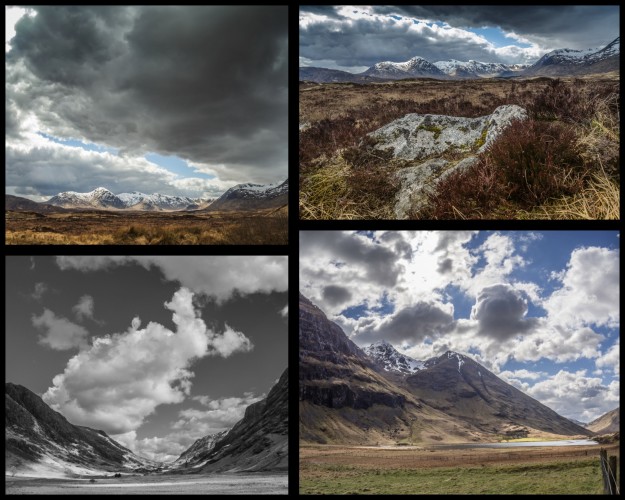 After breakfast we packed up the car and pointed it south. Made fairly good time all the way down the road. Stopped off at Spean Bridge for lunch which for me was a mega breakfast of bacon, link sausage, lorne sausage, haggis, black pudding, fried egg, beans, tattie scone, toast and tea all for £7.95. Scamp had a chicken burger which was uninspiring. Should have had the mega breakfast, even if as a semi-veggy you'd have had to donate your sausages and bacon to me.
Back on the road we continued south and stopped just past the Clachaig Inn so I could take some photos. The first of the day. I wanted some shots looking back at Loch Achtriachtan – bottom right. I also got a decent shot looking the other way up the glen towards the Pass of Glencoe. That's the mono shot. Just got back into the car when a people carrier arrived and out spilled half a dozen Chinese tourists each with a smartphone on a selfie stick and I thought of Murd!
Found a slot in the never ending stream of traffic heading up the glen and drove on to Rannoch Moor. I was watching the cloudscape that was forming above the snow covered mountains and trying to figure out where would be best to park to grab the shot I could imaging was being created for me. I've been caught out before by ignoring the first parking place, trying for the optimum viewpoint and finding there's nowhere there for parking – Scotland's terrible for providing parking where there is nothing worth seeing and no parking where there is. This time I chose the first place that presented itself almost empty too – just a white van in it, and decided I'd walk until I found the best VP. As it turned out, there was a beautiful clear shot of the mountains and clouds right across form the parking place (top two shots). Took the shot (or 10) and then realised there was a tripod with a camera but without a photog, just to my right. Then I turned round and saw the driver of the white van watching me. It turned out he was doing a time lapse of the changing cloudscape. I asked him how long he'd run it for and after some thought he said "about 30 minutes should be enough". He said he was driving down from Skye and really should be in a hurry, but the landscape was just too pretty to ignore. I told him we were doing the same and took my leave, wishing him luck with his time lapse.
Our next stop was between Crianlarich and Lix Toll for a coffee and to stretch my legs. Then it was on through Callander and Doune to the M9 and home. It took us just over six hours.
Thanks Murd and Jackie for the hospitality again and hope to see you soon.
Over the five days we clocked up around 660 miles and I took 335 photos, most of which were rubbish, but some of which I'm really proud of. That's what photography is all about. A 10% success rate is pretty good. My success rate was about half of that, but then, you can't quantify art 😉