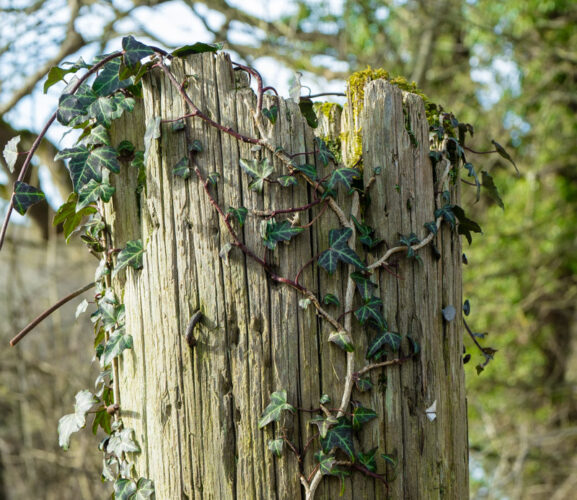 Forty eight years ago we tied the knot and the knot is still tight forty eight years later.
I actually got a message from Parcel Force to give me a one hour time slot for the delivery of my new lens. It wasn't an anniversary present. Nothing to do with anniversary. Pure coincidence this time. The time slot was for 11.45 – 12.45. Right in the middle of what looked like a good day, but of course they got the time wrong. About 10.15 there was a knock at the door and there was a parcel on the doorstep with a Parcel Force man retreating.
After opening up the big box and extracting quite a heavy piece of metal and glass, taking a few photos, just to make sure it worked, we planned the rest of the day. We had dinner to buy at Tesco and meds to collect at the next door chemist, then we might go for a spin out in a world that had colour, not simply white.
It was when we left Tesco I thought we might go to Motherwell, the Capital city of North Lanarkshire and find Baron's Haugh which is a nature reserve and parkland where my brother was taken loads of great photos.
So … we were heading for a nature reserve with plenty of opportunities for nature and macro photography and I remembered, just as we were driving down the slip road to the motorway, that I'd left my brand new macro lens at home, because when we left we'd intended to tootle round Cumbersheugh for half an hour and there would be limited photo opportunities there that I hadn't already made use of. Numpty.
The reason for Baron's Haugh in particular was because of a FB post from one of the salsa beginners from last year, berating me for being less than complimentary about Motherwell in general. She waxed lyrical about Baron's Haugh and we though we should give it a try sometime. We got there after only one wrong turn (sat nav hadn't a clue for once) and had a half hour walk past one of the bird watching areas in the sunshine although the wind was cold. We were standing on a crossroads of paths and I was checking exactly where we were with the OS map on my phone when a deer ran past, then another and another. In total, four deer ran past, less than 50m away. Motherwell is certainly a lot more rural than I remember it. We walked back to the car, but didn't see any more wild animals and drove home, agreeing to go back again, better prepared for the conditions. Isn't it strange that it took a Polish girl about the same age as our daughter to tell us about this parkland, almost on our doorstep.  Thank you Mirka!
Dinner tonight was individual fish pies from Tesco. Sounds a bit downmarket for an anniversary dinner, but they were rather posh fish pies in little thin wooden baskets and were baked in the oven. Washed down with a very nice bottle of white and followed by Eve's Pudding from M&S. The only thing we made (Scamp made) was bruschetta as a starter and it too was intensely tasty.
We listened to Album II by Loudon Wainwright III (Me and my friend the Cat!) and reminisced for the second time recently. A great day.
PoD was a fence post covered in ivy from our Motherwell walk.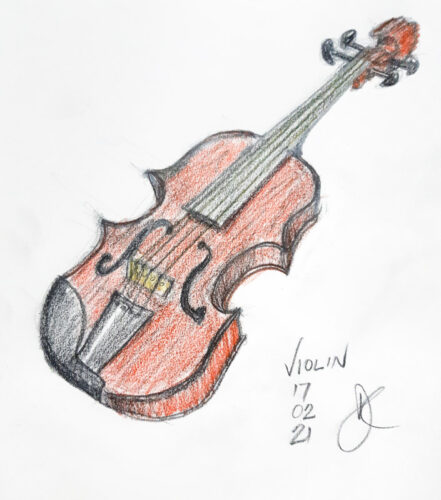 I used coloured pencils for today's prompt of "Violin". Not quite what I was intending it to look like. A bit clumsy but a change from paints and graphite or ink sketches. It's OK, that's all I'll say.
The other day I almost cut my hair. "… It was getting kind of long. Could have said it was in my way, but I didn't and I wonder why …" Tomorrow I may do that thing.
As you will have guessed this is another catch up. Hopefully the last for a while.