I decided to go in to Glasgow today to pick up my monsterpiece  and Fred's masterpiece from yesterday.  Weather was very mixed with bright sunshine one minute and torrential rain the next.  Bought myself a couple of watercolour marker pens from yesterday's demo – yes, I know I was scathing about them, but maybe I should be more open to new innovations.  Anyway, for whatever reason, I decided to give it a try.  I also got one of the reservoir brushes at Fred's recommendation.  To round it off I got a trio of fine line black markers.  £20 spent, just like that!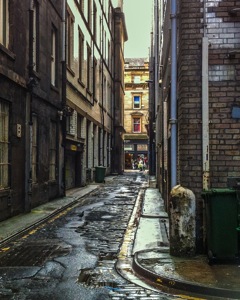 After yesterday's investigation of the wee alleys, I extended it to include one taken from just off Exchange Square looking towards Buchanan Street.  I'd decided not to take  formal camera, so relied on my trusty iPhone 4.  The best camera you can have is the one in your pocket!  So true.  I liked the effect of sunlight after the rain shining on the street and the white tiled bricks.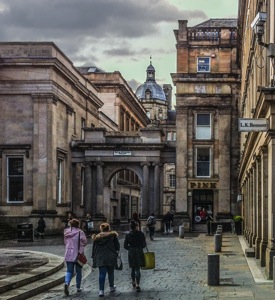 The other pic is from Exchange Square and, because I was shooting into bright light, the highlights were blown out, so I dumped the shot into Photoshop and copied a sky picture into the blown out area.  I used Darken mode and then filtered the street pic so that the sky only affected the light area and not the buildings.  Photoshop is not my favourite editor, that accolade must go to Lightroom, but it's useful for simple trickery like this.