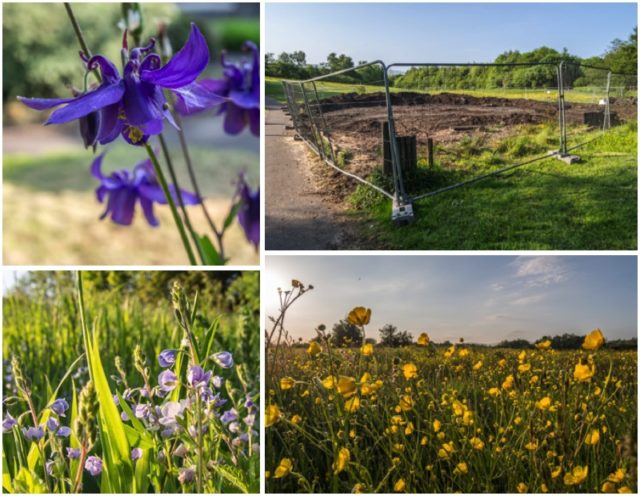 The new lens was due to arrive between 3pm and 4pm so we had time to kill today.  The day had started with heavy cloud, bit without the rain that had been predicted.  However as the day wore on, the clouds lifted and the sun shone, but there was a cool breeze, so rather than sit in the garden as we've been doing recently, we did our phase one packing.  Just to see how much we could lob into these canvas bags.  How more efficient they are than the big heavy rectangular boxes my mum and dad had to drag on holiday with them.  No rolling wheels for them, no, they had to carry them.  Going on holiday was a tough business in the old days.
<Technospeak>
The lens arrived on time and I took a two or three shots.  They looked as good as the reviews had predicted.  This lens is a 12 – 32mm zoom and this equates to a 24 – 64mm in 35mm terms.  On a 35mm camera, a standard lens is anything between 35mm and 60mm, so this lens covers this with a little more on the short end.  In other words, it's a wide standard lens, a kit lens.  It doesn't do anything very special, but it does it very, very well.  Those two or three shots showed that it was really sharp.  It provided the sharpness of a prime lens with the versatility of a zoom.  It looks like it's going to be locked on to one of the Olys for some time to come.
</Technospeak>
All of the photos in the matrix were taken with it today.
JIC and Hazy: The one top right is all that's left of the Adventure Playground on the path to Condorrat.  They've taken out all the old stuff.  Now we wait to see what will replace it with.
Spent the rest of the afternoon coaxing, first the Mac and then the new Linx tablet, to work properly.  The Mac problem is iTunes.  My least favourite Mac prog.  I applied an update this morning, something I rarely do.  After that I kept getting a popup telling me that something to do with the dock had crashed.  After checking on the net, it turns out that everyone else who has the problem links it to the same iTunes update.  Apple, I don't expect this of you.
The Linx problem was that some of the apps wouldn't load any more.  When Control Panel failed to load with an error that looked like the progeny of half the alphabet and an international telephone number, I knew it was time to restore it.  Unfortunately the restore got to 95% and got stuck.  I restarted it and it worked a bit better.  The apps loaded, but Control Panel still failed.  I've downloaded  the restore from the Linx site.  If I have time tomorrow, I'll install it and see if that helps.  Microsoft, I do expect this of you!
Looking for warm sun tomorrow.