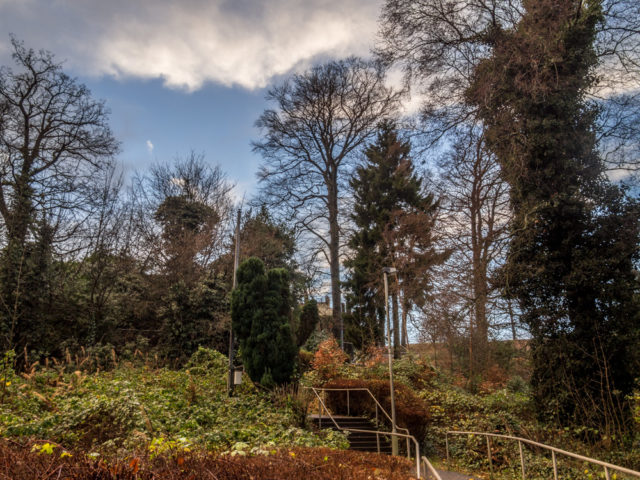 It just seemed to get darker today.  From the time we woke until around 2pm, the clouds seemed to be massing and compacting to the extent that they successfully prevented any light from reaching earth.
When we realised that there was little chance of any decent light and Scamp had been for her physio appointment, we went for lunch to Vecchia Bologna.  We had toyed with the idea of booking a table as it was Christmas Eve Eve, ie. the day before the day before Christmas, but when we got to the restaurant there was only one other couple there.  Admittedly, we were early, arriving just before 1pm.  However, the place soon got busy with a big table arriving halfway through our meal.  It was a Christmas Lunch menu and we made good use of it.  Scamp had:
Starter   Tortino mediterraneo di riso with warm grilled vegetables
Main      Fillet of Seabass pan cooked, with fresh chopped tomatoes, garlic and basil
Dessert  Traditional Christmas pudding served with Warm brandy sauce.
I had:
Starter    Scottish smoked salmon with tiger prawns, mixed crispy salad leaves & home made chilli ginger jam
Main       Tagliatelle pasta with a ragú of Italian seasoned pork sausage garden peas & cream
Dessert   Traditional Italian Tiramisú.
Delicious.
This was our eat-out Christmas Lunch.
After lunch we stopped off at Waitrose on our way home to stock up on the essentials for Sunday that we hadn't already bought at Tesco.  While we were walking back to the car the sky started to clear and the clouds finally parted to allow some blue sky to shine through all courtesy of Storm Barbara.  I got some shots of the trees behind the carpark, but I must say they were uninspiring and as a result the photo is uninspired.  I just missed a photo of a grey squirrel running across the toes of my shoes!  That would have been a good one to get.
While we drove along the M80 motorway heading due west, we were treated to a beautiful sunset with the sun setting into the clouds just above the horizon.  So clean, so clear it reminded me of the sunsets on the cruise in June, and then it was gone.  So the sun did rise this morning, it was only the clouds that obscured it.  Obscured by Clouds – Pink Floyd.  That could have been the theme song for today.
Notice that all the references to the time of year today sarted with a capital 'C', not an 'X'.  That's because there was very little or no commercialism attached.
Storm Barbara scooted over us this morning with a few gusty winds and I could feel the sideswipes on the motorway, but for most of the afternoon it was quite calm.  It's getting windy again tonight as was forecast.  Hoping it's on its way north east now.
Tomorrow is Christmas Eve.  Hoping to go in to Glasgow on the bus and enjoy a pizza at Paesano.
Glad to hear that N D'Ag was back home and feeling a lot better.  Hope there isn't any snoring tonight Hazy!