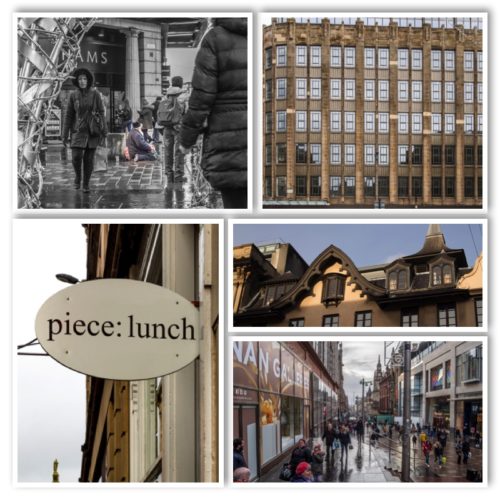 For once we stuck to our plan and went in to Glasgow on a freezing cold bus.  Storm Barbara was still lingering around and making its effects felt as the double decker bus wandered across the road, buffeted by her gusts.
In Glasgow, after wandering through John Lewis we headed down Bucky Street then took a left turn to get a pizza in Paesano.  Our pizzas were a bit more rustic than yesterday's lunch, but equally enjoyable in their own way.  The food was on the table less than 10 minutes after we sat down and it was as good as any pizza I've ever tasted and a lot better than many.  Maybe not quite as good as those from Napoli, but that's only a maybe.
From Paesano we went down to Argyle Street for a coffee in Cafe Nero, then along to St Enoch's, but the German market was closed.  I'm guessing that it was closed to allow the Polish folk to get home, because we all know there are few Germans in the German markets, as they are all run by Poles.  Hope 'Pole' isn't a derogatory term, because I can't think of a 'proper' name.  Hope it's not as bad as 'Scotch'.  I'm not Scotch, I'm Scottish.
With no market to investigate, we headed back up Bucky Street.  I finally got a mini display port to VGA adapter in the accursed Apple shop to try connecting my Mac Book Pro to my old ten year old monitor.  The result wasn't exactly high fidelity, but it did work and allowed me to test out the possibility of using a desk setup.  Better to try it out for £30 than just dive in to an iMac costing £1400. From the Apple store we walked up through Buchanan Galleries to get the bus home.  A warm bus for a change and it looks like Barbara has kissed us goodbye becaus it was a much less fraught journey home.
Finally got the last copies of my calendar printed earlier tonight, so in the next couple of days they will be punched and clipped together.  After that they can be sent out.
Tomorrow?  Well, I think tomorrow is Christmas Day, so it might snow.  With temperatures in double figures that could be difficult, but we live in hope.