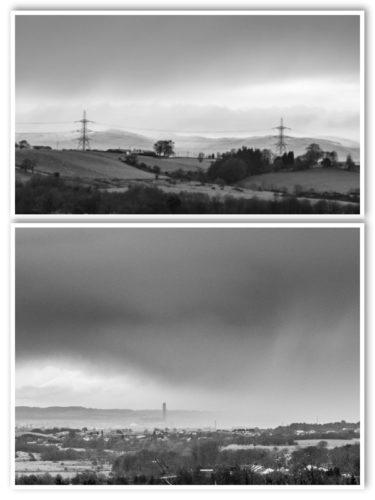 Yesterday we got a Christmas card from my cousin, Barbara.  I haven't seen Barbara in years.  Tomorrow we're going to meet another Barbara – the second storm of the year.  Definitely a different Barbara.  Today we got a taste of Barbara – the storm.
We drove to Currys at Bishopbriggs because they had the printer cartridges for my Canon printer.  I did think about buying a new printer because the Canon, whilst it still works, is getting old, but I'm still not settled on a make or model.  I really only use the printer at Christmas to print my annual calendar.  The rest of the time I just steal a couple of prints from Scamp's printer.  Once I've got the calendar printed and out of the way, I'll decide on the long term future of the IP4500.
After we came back and had some lunch, I went out in the torrential rain to get some photos.  One great benefit of the 365 is it forces me out to get some photos.  Some days I admit that I use the flowers or weemen to get something to post, but I personally see them as stopgaps at best and failures at worst.  Today I waited until the rain had passed and headed up to the Antonine Wall to get some atmospheric shots of the landscape after the rain.  Unfortunately, because of the gale force winds, the next blash (another Scottish word that describes a sudden downpour perfectly) of rain came battering down as I was setting the camera and tripod down.  However, the lighting was good and the clouds were exactly where I wanted them, so I carried on and got the shots.  There wasn't much colour in the scene and what was there didn't add anything, so I reduced both shots to monochrome in Lightroom.  Now I've got the camera and lens drying out in the warm living room hoping that there is no moisture in the innards of the lens.
We'd intended to go to Barca tonight, but the weather was against us, so we left it for another, drier day.
Tomorrow?  Let's see what Barbara brings to the party.