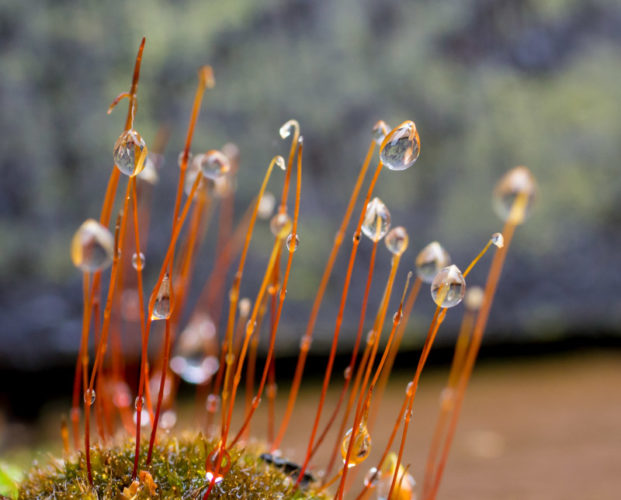 … and forgot to go away.
It wasn't the best of days. Like I said at the top, the rains came and forgot to go away. I don't suppose it mattered really as we weren't intending to go anywhere except to Glasgow for dancing in the afternoon and then again in the evening. The furthest I was past the door was a quick trot round the block to achieve my 250 steps every hour. It was on one of those circuits I found the little Glass Bead Plant growing on the wall at the back of the house. Of course it was really a moss with raindrops clinging to the fruiting bodies, but some people will be avidly searching Google for Glass Bead Plants as I write this! It got PoD.
Drove in to Glasgow and ticked off another 250 odd steps on our walk down to Blackfriars for Jive, Quickstep and Cha-Cha. We made a few mistakes still, but not as many as last week, thankfully. It was almost a private lesson again as the class started out with three couples, then two were spirited away to learn the stuff that we already knew, that left us to the tender mercies of Michael. Worked on another part of the Over the Rainbow routine and then did some work on our Quickstep and in between we tackled the dreaded 'off beat' Cha-Cha. Totally drained, we went for coffee (no cake) and then drove home in the rain.
Scamp drove in to Glasgow tonight and we danced with the intermediate class and the beginners who are getting through the moves at quite a pace now. Thankfully the Tipsy Ladies were not in class tonight, so it was much more bearable than last week.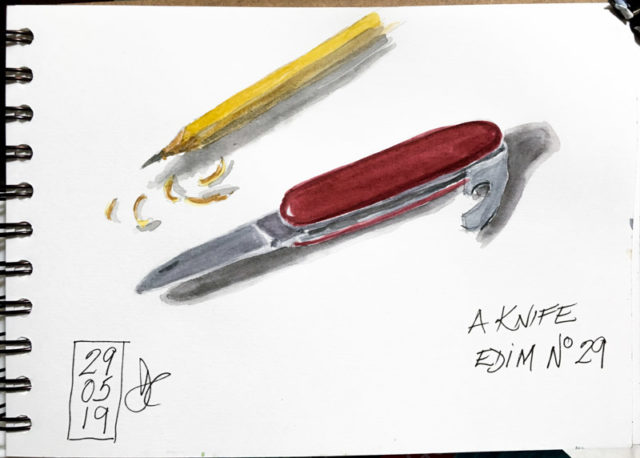 Today's sketching topic was A Knife or a Sword. I suppose I could have found a sword somewhere in the town. Some areas of Cumbersheugh are awash with them on a Friday night … allegedly! However, I resisted that temptation and settled on drawing my old Swiss Army knife. It's been sharpened so many times, the blade is a completely different shape from when it was new. It was my tool of choice for sharpening pencils. So much more efficient than a pencil sharpener. Unfortunately, the world has moved on and it's now illegal to carry this useful tool.
Tomorrow looks like being much like today, weather wise, so I doubt if we'll be going far.