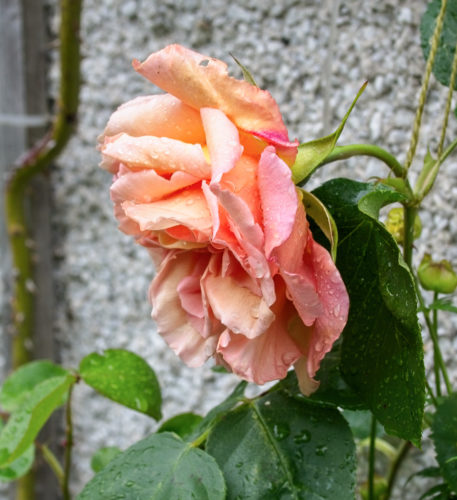 I was wondering today, did it rain on St Swithins day? Then I realised that wasn't until July. Maybe the rain is just practising.
We drove through the rain to Falkirk today to get some low-sugar muesli and a few other essentials. I thought the brand I usually get, with no added sugar was in the low sugar bracket. Nope, it was in the High bracket, carrying the danger sign of the red shield. What I forgot is that it was the extra fruity version and that extra fruity contains the extra sugar, but because the manufacturer is not actually adding sugar, they are telling the truth, just not the whole truth. There are a lot of devious people out there and they're not all politicians. Had lunch at Morrisons because they do a lovely roll 'n' link sausage, plus, Scamp likes their bowl of chips. Back in the car and through the rain once again to arrive back home with not one photo taken.
I'd been watching the progress of a couple of cameras on MPB and WEX, both second-hand sites. Today I made the decision which one to buy and will report back on it after it arrives from the DPD man tomorrow sometime. In case you're interested, it's an Olympus E-M1. Please don't moan about ANOTHER new camera. It's about five or six years old and originally cost over £1,000. I'm not paying anything like that. Also, it's over three years since I bought the last Oly.
Started a sketch of a motorbike, today's topic. An MZ TS 150, the bike I used to own. It was a bit rough, but a reasonable record of the bike. Then I got a bit frantic and dived outside to grab a couple of shots of our Schoolgirl rose in the rain. I've just posted it on Flickr and it will be interesting to see how many hopefuls I can trap with the title Schoolgirl In The Rain! It usually works well. It would be fun to see their sad little faces!
Just so you know Hazy, I got an email from A Small Orange this morning asking me to pay $89 for an overdue bill. That's the bill for the webspace contract I terminated in April and have confirmation that it's been terminated. I also managed to log back in to ASO and found that my invoice there has been cancelled. Wrote them a nasty email.
I was making Crab Spaghetti for dinner tonight when the ring pull on the tub of white crab meat broke and left me with a plastic tub, metal lid and no way of opening it. Tin opener wouldn't work on the thin rim. Eventually used my favourite tool, Molegrips to wrench the lid off. Took some photos of the carnage and another nasty email will be on its way tonight.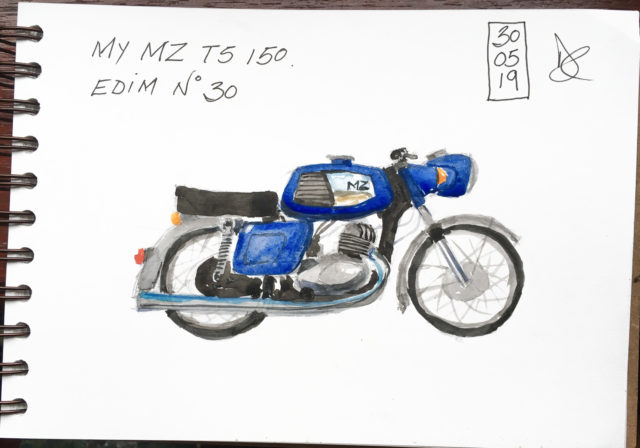 Schoolgirl eventually became today's PoD, then after dinner when the swearing about that crab tub had subsided, I painted the proper MZ picture. Great bike. Just really a commuter bike. A two stroke that made a terrible racket and drank oil like it was going out of fashion, but a dream to ride with its flat 'Vinny' bars. So called because of its design being based on the legendary Vincent motorcycles. Had to sell it round about 1980 to buy a Reliant Regal 3/30 three wheeler. Tomorrow is the last day of the challenge and, would you believe it, the topic is A Crab. Maybe I should just draw the tub with the half ripped off lid.
Tomorrow we may go to the Sagra Italia event in Glasgow. It looks like being a very wet day, but Scamp thinks everything is under cover. If we decide not to go then we may go on Saturday. We've got (free) tickets for both days.