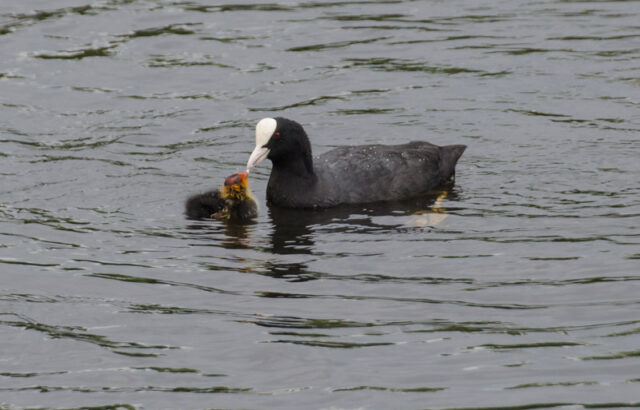 It's all about the Views and the Faves and the Comments.
Hazy phoned this morning and if she hadn't I'd have struggled on with Angry Birds until the phone's battery died. Caught up with everything that was going on down London way and picked up directions to what sounds like an interesting restaurant in Kingston. Hope the rest of your plans don't get washed away in Friday's rain Hazy. Enjoyed the chat and I'll put the Utopia Avenue back on my 'possibles' list.
Do you remember Tuesday's PoD? I won't be disappointed if you've to rack your brains and then can't find anything remarkable about it. It was a six frame panorama of Broadwood Loch, which in itself is a totally forgettable manmade loch. Just a big pond really, bounded on one side by a ring road and on the other side by the march of power line pylons. It's got a 'business park on its east end, although it looks like business isn't really booming and on it's west end is a car park. The least said about it the better. However, if you choose your viewpoint well to disguise the ring road, have the business park behind you and limit your view to avoid the car park and the pylons, it appear that you can take a decent landscape photo that wins a remarkable number of view and faves (favourites) with the bonus of the occasional comment. Today I woke to find that overnight I'd amassed just over 5,000 views, around 250 faves and 8 comments on Flickr. This is almost unheard of for me. On a good day I get about 50 views, half a dozen faves and the occasional comment. The reason for this interest is because some time over the last 24 hours the picture was featured in Explore which is Flickr's much sought after 'gold award'. Why it won this accolade and who awarded it is a secret, only known to those in the high echelons of Flickr. Whoever you are, I thank you.
After that, the rest of the day was bound to be a let down, wasn't it? Well, not all of it. The weather that had been trying to make up its mind whether to rain or shine, settled on Shine. I've two old tablets that I occasionally use one, the Nexus 7 is ready to be sent to a place where old tablets go. It was groundbreaking in 2012, but now it's just ready for breaking. The other is still running. It's a Samsung Note 10.1 and in 2014 it was an expensive but decent machine. Now it's sloooow. Too slow to do anything other than draw with. It has its own dedicated pen and the processor is fast enough to keep it working, but the OS is slowing it down. I could downgrade it, but that's a pain. For less than half what I paid for it back then, I can get a faster, lighter tablet with twice the memory. That's what I did this afternoon. Drove to Sunny Coatbridge to get a new 10.1, unfortunately without the pen. It's a lot faster than the 2014 model and the screen is just as detailed.
With it charging, I went for a walk to St Mo's and got almost nothing. The one shot I liked was of a mummy Coot feeding one of the baby coots. This must be the second brood she's had because the first lot arrived around the same time as Covid-19 did, not that I'm blaming the coots for that.
Dinner was a new version of Spaghetti a la Carbonara, made without cream. Using cheddar cheese instead of parmesan and with peas. Our peas. The second flush of peas and they tasted ok. Jury is still out on the Carbonara. Scamp thought it was good, I wasn't so sure. Like yesterday's curry, it's worth trying again.
The final count as I write this blog is   6,620 views  276 faves  8 comments.
Looks like wind and rain for all of us tomorrow, so it's definitely a 'wait and see' day.