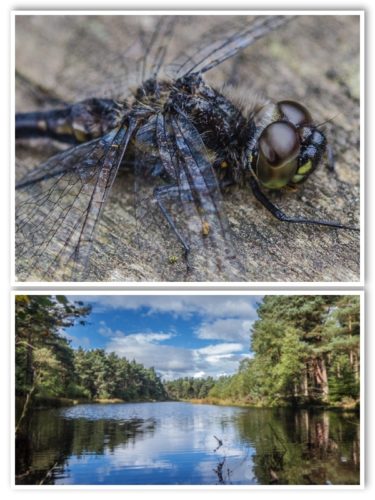 Today we took JIC and Sim to Devilla forest in Fife to have a walk through the trees.
Devilla is a Forestry Commission site with a fair bit of parking and a few interesting walks through well maintained woodland. At weekends it gets very busy, but on a Friday morning it wasn't overrun. We started out in sunshine, but as we continued through, the clouds rolled in. Sim and I stopped to take some photos of the pond and later a black darter dragonfly that settled near us. There was also a brilliant green dragonfly that buzzed us, but didn't want to settle. Then a black dog, not the Black Dog, just a labrador appeared and scared away the green dragonfly. It was as we were turning away we realised that Scamp and JIC were nowhere to be seen. I reckoned that they were ahead of us heading back to the car. Sim was of the mind that they'd taken the wrong turning, after passing the pond you see above, and were walking round the pond again. We headed back to the car, but the wanderers weren't there. We sat and waited, then Sim phoned JIC and she had been right. They'd turned left rather than right when they passed the pond. Of course they hadn't just walked the same path again, they'd gone ever further into the forest. Anyway, when they returned, it was time for lunch.
Lunch was in the Walled Garden, just along the road from the carpark. Food was fine and the cakes looked as good as they did the last time, but the coffee was almost as weak as Costa muck.
We drove to Pittencrieff park in Dunfermline for a walk around the flower beds. We went to get a photo opportunity of the 'Fairy Castle' that is in reality the City Chambers, but didn't bother to visit the town itself. Best to view it from a distance.
Drove over the new Queensferry Crossing which was mildly mobbed. Not as bad as I thought it would be, but we were going north to south. South to north was a different story, with traffic attempting to merge from ever available angle.
Later we dropped JIC and Sim at Chris's house in Caldercruix. The first time I've been there since John and I picked up Andy Taylor and took him to school, easily 25 years ago. It's not improved.
Tomorrow after we drop 'The Kids' off, we may go out somewhere, although the weather doesn't look a patch on today's.