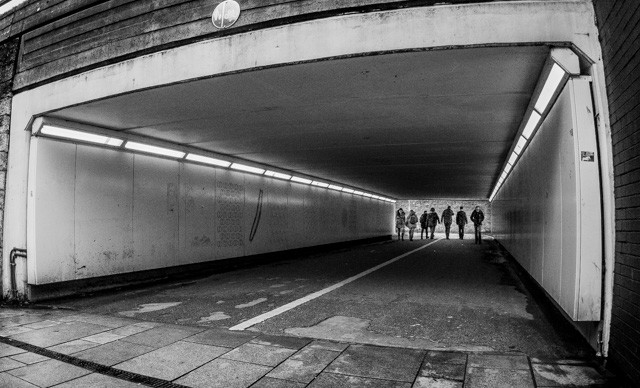 Another dull, dark, wet day.  An ideal day to go for a swim in the warm waters of the leisure centre with no need to feel guilty about not exercising first, as the gym is being refurbished this week.  So off we went, both of us, because Scamp can now go when she wants – the freedom of retirement.
After that we headed in to Glasgow because, remember yesterday's boots trip?  Well, this morning I decided that the boots were just a wee bit too wee for complete comfort.  Parked at Cowcaddens and took the underground to St Enoch's.  Yes, I know it's real name is St Enoch, without the apostrophe 's', but it's alway referred to as St Enoch'ss, so that's what it is here.  Got the boots exchanged for a green pair.  Scamp says it's really my colour.  Don't tell anyone in Larky that or they won't let me in again.  This pair are a half size bigger, so that should be fine and dandy.
Technospeak Alert
On the way back to the car, I stopped to get a shot of the underpass at Cowcaddens.  I like this underpass with its interesting graphics and great lighting.  I wanted a bit of human interest and I thought I had the idea subjects when a group of guys wandered through.  There was my shot.  It even had a title "The Magnificent Seven" because there were seven of them.  When I got home and downloaded the shot I was disappointed to see that there were in fact, only six of them.  However, as always I'd taken another couple of shots from different angles.  One of them had a woman walking towards the camera at about the same distance as the six guys.  It was a simple matter to use Potatoshop to clip her out of one frame and insert her into the other one.  There, now it was the Magnificent Seven (Now referred to as the MS).  Isn't that what they invented Potatoshop for?  The lighting was a bit more difficult to fix.  I tried low key, high key and HDR.  None of them worked for me.  I eventually used a preset I've been making good use of this week.  It's a low key, high contrast monochrome.  The only problem was that the MS were lost against the background.  However, help was at hand with Lightroom's new radial filter which allowed me to lighten the back wall and make the MS stand out in silhouette.  Just what I wanted.  There, that's the full story, not the sanitised version that goes into Flickr.  I don't know what it is with underpasses, bridges and tunnels this week.
Stopped at the Costa at Robroyston with the intention of going to Asda for essential shopping later.  When we came out, we couldn't be bothered, so we decided to go home instead.  That's what we did.  Scamp is out tonight at the choir carol service.  I offered to go with her, but she quite rightly said that I'd hate it, so she went on her own.  May start a painting later, or maybe I'll just heat a pizza because it's Friday.