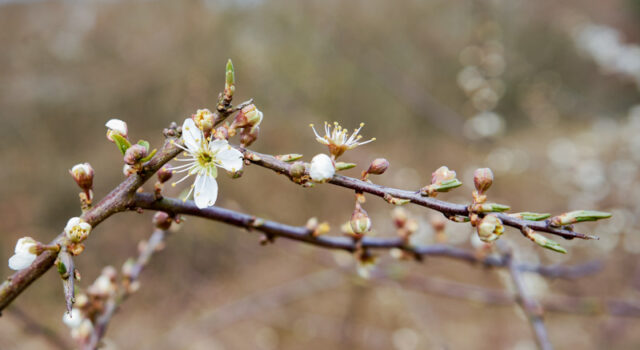 And we did have snow.
Thankfully not a lot of the white stuff, but the evidence was there, on the cars and on the grass. It soon melted in the sun. A beautiful looking morning with blue skies all around and bright sun. However, one look at the outside temperature told a different story 0.7c is pretty cold, even for early spring. I thought we might stay in the warm for a while before we risked going out for a walk. Just to give the world a chance to warm up.
An hour or so later some clouds were arriving from the north and we felt it was time to go out and stretch our legs. Out of the wind, it was quite pleasant, but facing into it, you really did feel that icy blast. No more snow, but a bitter cold. We walked down and round the end of Broadwood Loch, over the dam and down the long winding path past the exercise machines then up the hill to the shops. Not a lot needed today. Just some mozzarella cheese and some fruit and veg. Then it was back home to make lunch.
Yesterday I'd made paella for dinner and as usual I made too much. Scamp had the idea of making some arancini with it. Little balls of left over rice and peas stuffed with mozzarella, dusted with flour, dipped in egg then rolled in breadcrumbs before being deep fried in oil. Scamp was doing the making of the balls and the stuffing with breadcrumbs, plus the dusting with flour. I was doing the dipping in egg and rolling them in breadcrumbs until I had enough to slide into the pot of hot oil. We had about three or four each and that was more than enough for a lunch. They were tasty, but if I was making them again (and I hope we will) I'd use a bit more mozzarella next time.
The lovely sunshine and blue sky kept calling me, especially as the clouds had cleared away again, leaving a sparkling day. However it only took a moment to remember that cold wind that would blow away any enjoyment of a walk in St Mo's. Anyway, I had enough photos from the morning's walk I thought. I spent the afternoon watching a tutorial for a piece of editing software I'd got a free, not time limited, copy of. It's a cut down version of the full editing package which costs an arm and a leg. It must have been one of the best video tutorials I've seen. Hardly a stumble in the guy's explanations and everything clearly presented. No histrionics either. So many people, mainly americans, have to shout at you and dance around when they're supposedly teaching techniques. No, this was an adult, confident in his ability. He did do a bit of soft selling at the end, but didn't push the full price version. I was impressed.
It was spaghetti with a tomato sauce for dinner, but the star attraction was home made Sticky Toffee Pudding with loads of sauce and custard. Delightful, Scamp!
Today's PoD was a branch of blossom caught on our morning walk. I could get used to this morning walk regime. It means we have to get up fairly early and get out. It also leaves time for me to go for a photo-walk later in the afternoon if time and weather permit. It's so easy to just vegetate on cold days like today. I should have gone out in the afternoon, but my time wasn't totally wasted. The PoD was processed in the new software which is called Capture One. I knew you'd want to know that JIC.
Another brightener today was seeing the first swallows and this is week 14.  Fairly late this year, but what a welcome they had, flying all the way north from Morocco and arriving into a snow storm!  Whatever would they be thinking?
No great plans for tomorrow, but if it's as cold as today which seems likely, I may do some fancy Tear and Share bread baking.