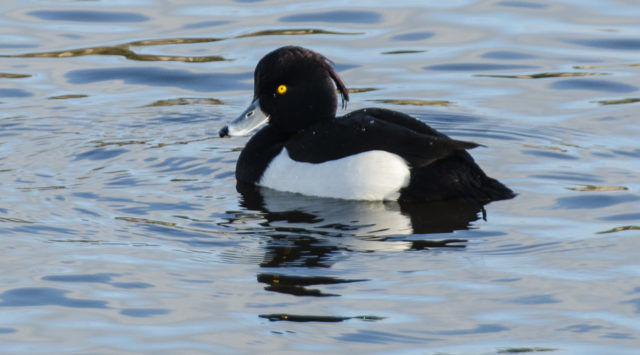 It looked a bit frosty when we woke, so we decided to take the 'getting up' part in a relaxed manner, as befits the first day of the year.
Normally we go for a walk on New Year's Day and today was no exception. However, a cup of coffee came first on the agenda along with the ceremonial completion of the first Sudoku puzzle of 2019. Then we got well wrapped up and I got my old boots out. Scamp wore her new, dressy boots, but with Goretex, so sensible too. We walked round St Mo's pond under a clear blue sky, watched the Canada Geese and the greedy gulls. We also saw the cute little golden eyed Tufted Ducks and it was one of those that made the PoD. The first PoD of 2019.
We left St Mo's and walked down to Broadwood Loch pasts the posh houses with their inflatable snowmen and indeterminate illuminated creatures. We took a short walk round part of the Loch just to say we'd been there and then we walked back home.
I struggled with, and swore at Microsoft Word for a while trying to mail merge some data from Excel into a word document. It just wouldn't work. It took me a while to realise that when I asked Mr Google about it, that all the people with the same problem were working on Macs. Could that be the problem? Could it be so simple. The answer seemed to be a resounding YES! I tried to emulate the problem on Scamp's PC laptop and it simply worked. I was using exactly the same files and exactly the same method and it worked. Another example of two systems just refusing to work with each other. Well, it's done now and I'll try to remember to use the PC the next time I'm mail merging.
Dinner was better tonight than Christmas dinner had been, even although Scamp's salmon was dry and my steak was a bit tough. I liked the red cabbage and the roast potatoes, although Scamp says the cabbage is a 'work in progress'. I think our demeanour was better tonight and the wine, Rosé D' Anjou was very nice. Pudding was a quite tart apple and blackcurrant crumble with cream. Plenty left for tomorrow.
Watched the Greatest Showman which wasn't nearly as bad as it could have been.
Tomorrow we may go out somewhere for another walk, now that we've done our traditional New Year's Day, Two Lochs Tour. A bit nippy tonight. It's -0.5 as I write.
Right, that's the first blog post of 2019 finished and posted in time.