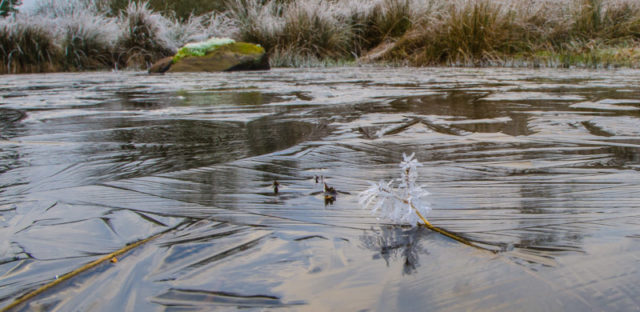 I woke around 4am this morning and looked out. I thought it had been snowing, but I was mistaken.
Although we were both up and about fairly early, we couldn't get our little ducks in a row properly so wasted a fair bit of time, although I did make some bread. My main task today was to get the calendars sorted and hopefully posted. I managed the former with the calendars punched, clipped and bagged, but when Scamp took a walk to Condorrat to post them, the A4 parcels wouldn't fit in the post box. Obviously our post boxes are Eurosceptic Remainer boxes, not happy with these new fangled European metric sizes. So she had to bring them back and hopefully they'll be posted tomorrow.
When she came back, it was my time to get out. I took a walk over to St Mo's to see if the frosty stuff was still there. It was, and it was everywhere. My favourite shot and PoD is of a little twig frozen to the surface of a wee pond. To take it, I set the ISO to 200 manually focused at about the right distance and set the self timer. Then I could rest the Nikon on the ice and press the shutter release. It's a good method if the ice is thick enough to hold the camera! I was holding the strap all the time just in case. This was the best of about four shots. I saw some other potential images, but would probably use the Oly for them if I get another day like today, because then I could see what the camera was seeing through the phone app. I'll keep it in mind.  It was cold out there.  Temperature was allegedly -0.6ºc when I came in, but it felt a lot colder than that.  It's now 1.6ºc, but still feels cold.
Scamp claimed dinner tonight. 'Rats' for her (no pun intended) and mince pie for me. Beans and potatoes for me and just potatoes for Scamp. Simply superb! Then it was more of the crumble for pudding and it had significantly improved since yesterday, but alas it is now gone.
Tomorrow I need to get up early to fix the kitchen light and after that we're going out somewhere. Cabin fever is setting in.