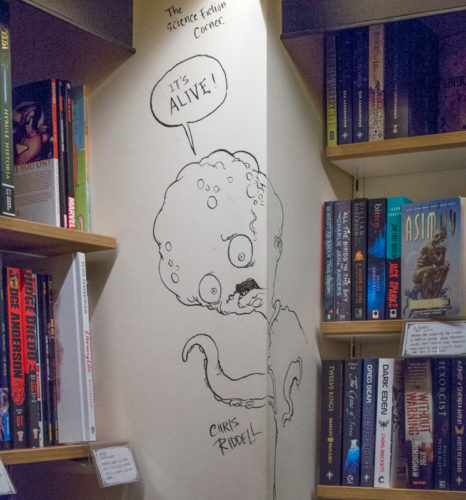 Today we didn't want to be bumbling around the house all day, so made a frail excuse and headed in to Glasgow on the bus.  From there we got the subway to the west end, to be more exact Kelvin Hall station and went for lunch at Usha's where food is served in tapas style.  It used to be totally vegetarian, but now it feeds the carnivore too.  I'm not going to have you salivating by repeating all our choices, but Scamp's favourite was Aloo Gobi and mine was Patina Ghosht.
By the time we came out, it was bucketing down.  It was teeming.  We walked up Byres Road and while Scamp went to Waitrose – our frail reason for coming – I wandered round Waterstones.  It was there I found my PoD.  Hazy and I have been following Chris Riddell on Facebook for some time and this looked like an original.  After getting the shot, I met up with Scamp and we walked across the road to Oran Mor and had a drink and a chance to get warm.  Oran Mor is an old church that has been converted into a pub.  It's pretty old-fashioned inside with sanded floor boards and dark furnishings and it suited us perfectly today because it was warm with good beer and wine.  Unfortunately, we had to get home today, so we restricted our drinking to one pint of Deuchars for Scamp and a large glass of Shiraz for me 😉
Outside the rain was still falling, so we decided to cut our west end visit short and get the subway home.  When we got to the platform and the train arrived, it was absolutely ram-jam-full of Rangers supporters, all of them with very long faces.  Today was the annual Old Firm match between bitter rivals Rangers and Celtic, and it didn't take a genius to work out who had won.  It must have been the quietest subway journey I've had.  Every single one of the supporters was locked into his or her own little world, and it was colder in that world than the weather outside.
Got the bus home and that was the end of the Glasgow trips for 2016.
Now to the questions:
Best thing I've done this year?
Without doubt, it must be completing Inktober  Not only did it make me sketch, but it made me sketch outside and that was a big challenge for me.
Best 'Toy off the Rack'.
It must be the Linx 10.1″ 2-in-1 tablet/laptop.  Very portable but very powerful too.
Worst thing I've done?
Technology again, but it's installing El Capitan on the Mac.  It's the 'Windows Vista' of the Mac OS.  The operating system that just didn't operate.  Wish I'd stuck to Mountain Lion.
Challenges for next year
Sketch more.
Paint again.
Gym and Swim at least once a week.
Talk to more people.
Smile more!
Let's see how it pans out.