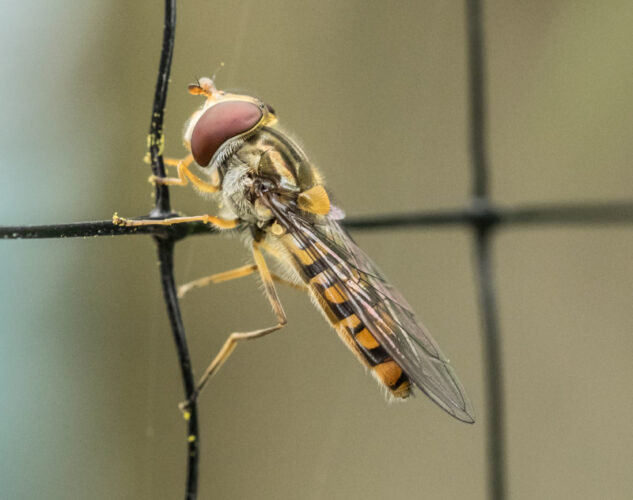 Although it wasn't raining when we woke, it wasn't long in arriving.
When it came, it came with a vengeance. Heavy rain in fairly lengthy showers. Then there were a couple of peals of thunder, but neither of us saw any lightning. With that said, I grabbed a few shots in the garden, including the PoD which was a Marmalade hover fly (Episyrphus balteatus) resting on the pea netting. At first I though it was dead and tangled in a spider web, but after the next rain shower I checked and it was gone. Probably off to shelter somewhere less exposed to the elements.
The rain water was obviously doing the peas a lot of good because the first couple of flowers were emerging. That's a good sign, because the plants are already about 20cm from reaching the top of the pea frame. It looks like I might get six pea plants this year. Four of them are from new seeds and two are peas I held over from last year. Carefully dried on the window ledge and planted with the rest in the greenhouse. Actually I planted four of last year's peas, but only two germinated. They are al bit slower than the new ones, but let's hope they do flower and produce pods.
Using our skill and judgement to determine the best time to take a walk down to the shops, we managed to get there, queue for M&S, get tonight's dinner (take-away curry) and get back without getting wet. We'd just got home when the rains came on again. That's a skill passed down from mother to son when you come from the country. Or father to daughter if you live in Easterhouse oops Provanhall!
Curry was lovely. Scamp had the standard Goan Veg Curry. I had the Superior Chicken Tikka Masala (£1 more). Both were delicious, although I now detect that there was some garlic in mine. A fair amount of garlic! Ice cream sundae to act as pudding, from Iceland (cheaper than Tesco, but probably from the same factory.)
Today's sketch was my pair of Merrell 'hiking shoes'.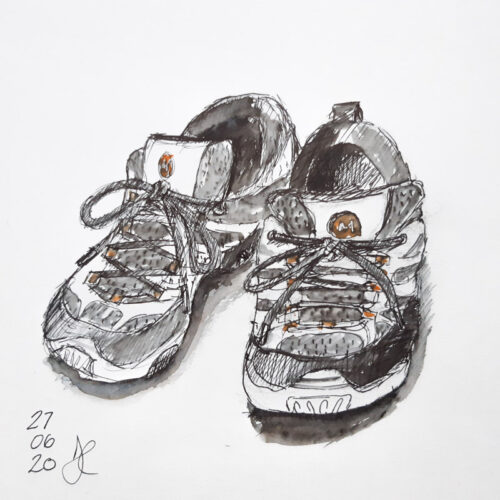 Not the most comfortable trainer type shoes I've ever had and certainly not the most hard wearing. There are cracks in the front already after less than a year. Still, they have Goretex and that keeps my feet dry. Decided a pen sketch would be better than watercolour after yesterday's disappointing painting. Actually enjoyed the drawing. Quite relaxing. You can tell I enjoyed it because I feel willing to share it here.
Tomorrow it looks like the same mix of weather, without the thunder, but with heavier and slower moving rain bands. May not be going out.