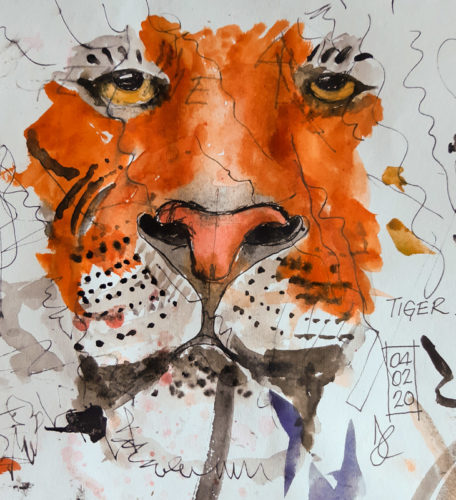 A beautiful bright morning. Seemed a shame to waste it.
Drove over to Drumpellier Park and walked round the loch in the sunshine. On the far side of the loch the water had overflowed into the bank of trees and it looked just like a mangrove swamp. We were expecting to see crocodiles in the water and a snake or two hanging from the trees, but all we saw were a gang of Mallards quacking away as they paddle through the maze of tree trunks. We went for a coffee in the wee cafe, at least it was coffee we asked for, but I think we got Babychinos instead. There certainly wasn't much coffee in evidence. The place seemed to be full of mums and babies, three of whom were having a laughing competition to see who could make the most noise. Even the scones were a disappointment today. Not a good day at the cafe.
Drove home and after lunch I thought I should start today's sketch and the topic was Tiger. I'd thought of doing a Tiger Lily or a De Havilland Tiger Moth, but finally put pen to paper and copied a tiger from a Google Images shot. My first attempt wasn't all that good, so I tried a practise piece on my doodle sheet, beginning with the nose rather than the eyes. Then the beast you see above appeared through the doodles! It became PoD.
Scamp and I were discussing PoDs this morning and I was admitting that the quality of my PoDs of late has not been really worthy of the name. On dull, wet, dark days it's difficult to find suitable subjects for the PoD, or even a decent photo to put into the 365. I'm loathe to stop the 366, but I have to say that the time it takes to make a silk purse from a pig's ear photo, even in the best of software is disproportionate to the quality of the finished product. Also, taking the photos, processing them, sketching something that fits the February day's prompt and then posting both shots, plus the blog takes a lot of time. As some of you will have noticed, if anything else happens on any given day, the blog is the one that suffers and I find myself playing catch-up next day.
With that in mind, and it being February, I intend to still take a photo if the light and the weather suits, but hopefully I'll manage to complete a drawing or painting from the month's list and this will become PoD. Hopefully once February is over and we are into the lighter days of March there will be more opportunities for photos DV. If not, then I will probably suspend the 366 and just post the occasional good quality photo.
Plans have been made for tomorrow. Hoping for some decent light to get some photos too.