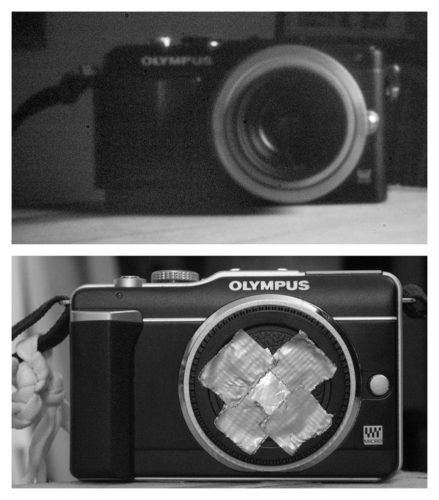 It was a wet morning and it didn't clear up until about 5pm, for an hour, then the dry spell was over and the rain came back. That's my excuse for making it an indoor day today.
For a long time I've been following the exploits of one of my Flickr contacts, Jiffy Cat, presumably not their real name. For years now, Jiffy Cat has been experimenting with pinhole camera photography, and has recently been producing some interesting images. I believe the method JC uses is analog, ie. film, paper, developer and fixer with all the smelly mess that accompanies this process. I've had my time doing developing and fixing and I don't want to go back to the mess or the stained fingers which made me look like a 20-a-day smoker. No, technology has moved on. I decided to make use of one of my older M43 cameras and make a real body cap lens for it. I cannibalised an equally old body cap, drilled an 1/8" hole in the centre, covered the hole with thick aluminium foil and punched a hole in it with a needle. That was it as far as the construction went. The only difficulty was estimating an exposure. It was all trial and error, but at least I could see immediately how successful or otherwise each shot had been and make corrections accordingly. The best shot I got was with ISO 100 and 'shutter speed' of 60 seconds. The top one took the bottom picture and vice versa.
While this was going on, I made a live backup of El Cap on to an external HDD using the excellent Carbon Copier. It took a little over 4 hours to complete the copy which is a long time, but that was both of the internal HDDs and the hidden recovery sectors too. Hopefully this will allow me to boot from the external HDD and reinstall El Cap if the need arises. I've used this method before when I added the SSD to the Mac and it was faultless, so I'm fairly confident about using it again. Sorry JIC, that was just gobbledegook to you, wasn't it? 😉
Dull, but drier day forecast for tomorrow. Don't know if it will be worthwhile going anywhere, but we live in hope.