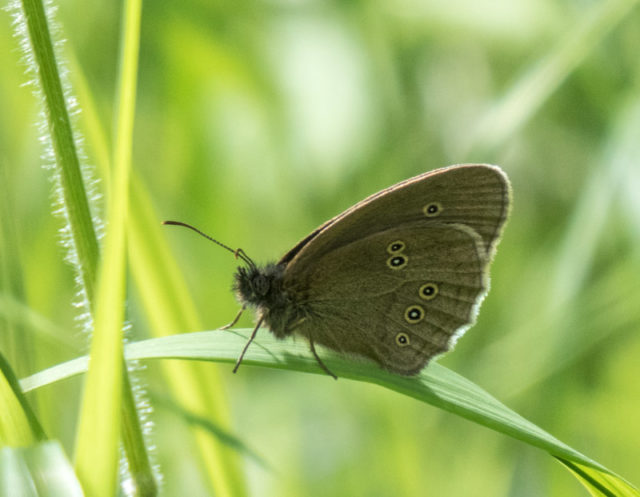 When the temperature is about 20ºc when you wake in the morning, you just know it's going to be a hot one.
Scamp was going out to a friend's for lunch and I wasn't invited this time, so I tidied up the blog in the morning and after my own lunch, set to and built the pea net I've been talking about constructing for the last week or two. It's a beautiful construct of bamboo canes and pea netting held together by cable ties. I was watched all the while by next door's wee yappy dogs. They obviously knew I hadn't a clue how to build it and also that I wasn't a threat, so they just patrolled their side of the fence and made sure I wasn't going to invade their territory. I was fairly pleased with the finished article and I'm sure the pea plants will love it when they start to grow up.
Took a walk down Auchinstarry way again to see if there was the slightest chance the Humming Bird Hawk Moth would make another appearance, but it didn't. The Ringlet butterflies were there in abundance though and that made up for the lack of the HBHM. Knee is still sore tonight although it wasn't bothering me while I was walking. It's either the walking or salsa that's doing it, because I've deliberately avoided cycling since the last episode.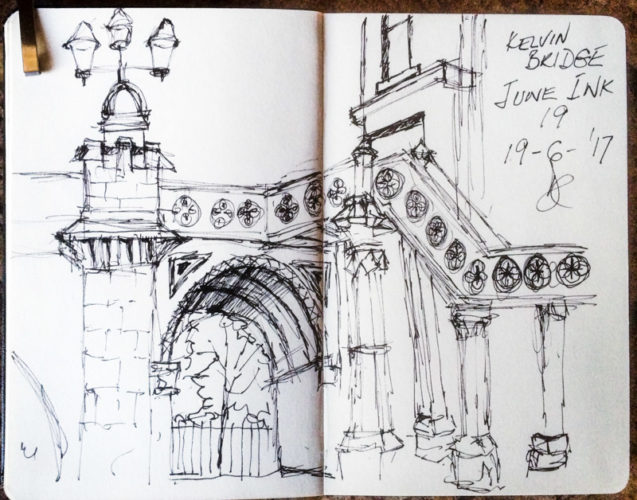 Salsa was interesting, I wasn't needed for the Intermediate class, so I took the opportunity to get a June Ink sketch done. Today's is of the staircase near Kelvin Bridge underground station. The escalator from the station up to street level is a boring plastic tube. The wrought iron staircase has real class and gravitas. Also, the old railway bridge under Great Western Road is very elegant too.  Today's salsa moves were Agamemnon and El Yaco
Early rise tomorrow, so I better stop there. One last day of sunshine before the rains come. At least it's a bit cooler tonight.