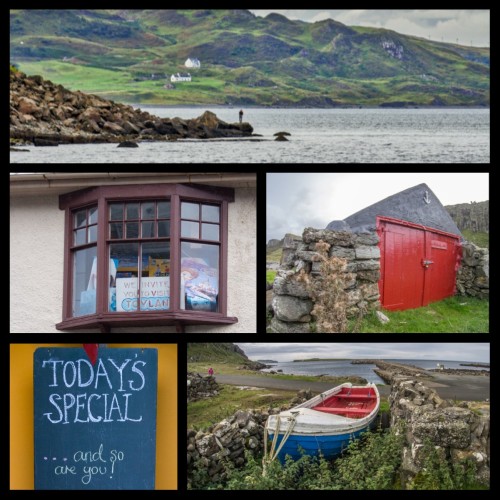 "Twenty wee Chinese men coming out of a Vauxhall with forty cameras". That was Murd's description of Portree, or to be more precise, the SYHA hostel in Portree in the summer. So you can guess, we went to Portree today … In the rain.
We drove through the rain to Uig. The ferry port to the Outer Hebrides.  You see people getting out of their cars and looking around thinking "I must have missed the town and driven straight to the port."  Nope, this is it.  A few scattered houses, an unwelcoming petrol station, a small (but not micro or nano) brewery and shop, a cafe and that's about it.  Not exactly the thriving hub of a community.  However, it does its job.  It ferries people, their cars and lorries across the Minch.  We didn't stop.  We've seen it before.  I don't think it's changed all that much.  What has changed is the police station.  It's now a backpackers bunkhouse.  I expect you have to pay extra to sleep in the cells!
From Uig we travelled down the west side of the island to Portree.  Went to Jan's Vans which is a big warehouse building on the outskirts of the town, selling everything.  I saw needles and I'm sure they had anchors tucked away at the back behind the rainmates.  I'd wanted to get another pair of boot laces for my walking boots.  I wasn't sure now if I'd need them with my dodgy ankle, but was getting them just in case. In Portree proper, we went for coffee and a scone at the bakery.  Worst coffee I've had in a long time.  We did, however, get to see the tourists piling off a bus (with their two cameras each, as predicted by the Staffin Seer) for their hour in Portree.
Had lunch in Cafe Arriba in Portree in the presence of a star!  Donnie McLeod, formerly with Runrig was in the cafe.  We felt honoured.
From there we drove back up to Staffin and sat for an hour or so at the slip, watching the waves and a lone seal swimming around.  That's the relaxing effect of Skye.  Just sitting for an hour staring at nothing in particular isn't odd here, it's what you do.  For me it's the silence.  For Scamp it's the space.
As usual, larger versions of the photos are available for viewing in Flickr by clicking on the mosaic at the top of the page.  Usual rules apply.  All photos are digitally watermarked, copyright remains with D. Campbell, that's me.