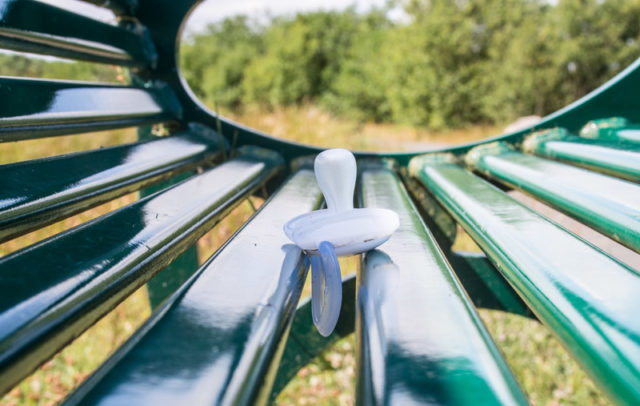 This morning I was going to do my quads exercise on two wheels.
It was a beautiful morning again and warm too, so cycling shorts and a cycling top were the fashion of the day. Pumped up the tyres and set off in pursuit of some photos and some exercise. The physio had suggested ten minutes of cycling at a steady pace of 90rpm. I don't have a cadence meter on my bike computer, so I just pedalled at my usual rate which is probably nearer 80rpm and kept going for about 20 minutes. Went off road on to a track for a mile or so and stopped when the track ended. Took a few photos of a hover fly and one of the Two Amigos, the two beech trees that used to be Three before the storm earlier in the year. About turned and cycled back on my circuit. Stopped beside Broadwood Loch to grab the shot that would become PoD, someone's lost dummy! Back on to the bike and home. About an hour all in. Not all cycling, probably about 40mins. Leg felt ok, in fact he cycling seemed to ease the nagging ache that had arrived in the night.
It was lunch time when I got back and after that Scamp stated her intention to go to Asda, and as the road to the town centre is closed for a few days, it was actually easier to go to Robroyston. The fact that Robroyston also has a Watt Brothers store, one of Scamp's favourite shops, had nothing to do with her decision to visit that Asda. After shopping (and a visit to Watt Bros) we went for a coffee then came home. It wasn't long after we got back that we noticed a lot of police activity at a house across the road. It became a bit more serious when a couple of folk in white Tyvek suits appeared. We're still not sure exactly what happened, but it's not looking good. Police have now gone, but I'm sure they'll be back tomorrow and the rumour mill will have answers, at least one of which will have an element of truth.
After dinner Scamp decided there was just enough warmth in the sun to give her just cause to sit in the garden for an hour. I wasn't so sure, in fact, the cool wind that was blowing from the west was all the encouragement I needed to finish my reading indoors.
Rain is forecast for tomorrow, heavy rain, so we've got buckets ready in the garden to catch every drop we can. Rain is so much better for plant than tap water, they say. It's certainly cheaper!