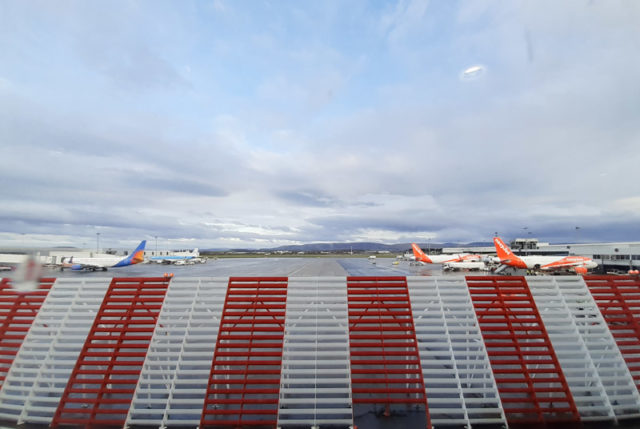 Off to a warm place
Early rise, just before 6am. Quick breakfast then a fairly easy drive to Glasgow Airport. Equally easy check in and then, as usual my bag got hand searched at security, but this time the tray holding my 'tronic stuff got searched too. I'm was beginning to think the ground coffee was looking suspicious, but what is there in a Kindle, a Samsung phone and a ten year old laptop, all of which switched off that could give cause for concern? Anyway, we were sent on our way again.
Flight was on time and the actual flight was without event. It was actually an interesting flight with very little cloud after we left Scotland. Great having plenty of leg room in the Jet 2 plane.
Short wait for our pre-booked taxi, and a short run to hotel. The room was fine, on 5th floor with a sea view as advertised. Unfortunately there was no sunny balcony and it faced into wind. A strong wind. Fuerteventura is always windy, but according to the weather app this was a 20 – 25mph wind which is a lot stronger than usual.
Quickly got dressed in something more appropriate for the 23ºc temperature and went in search of our first holiday beer. It's traditional, lunch and a beer in the sun. We won't starve.
After dinner we danced to Tina, the saxophonist who we were hoping told be working the hotel. So we should be having at least two nights of dancing as she will be back on Thursday, all being well. We even had a visit from the dancing Pepe who wasn't worked very hard because there were very few kids for the Kids Club. I think the visit made Scamp's night.
PoD was a quick snap of the airies at Glasgow.
Tomorrow we investigate the hotel further.