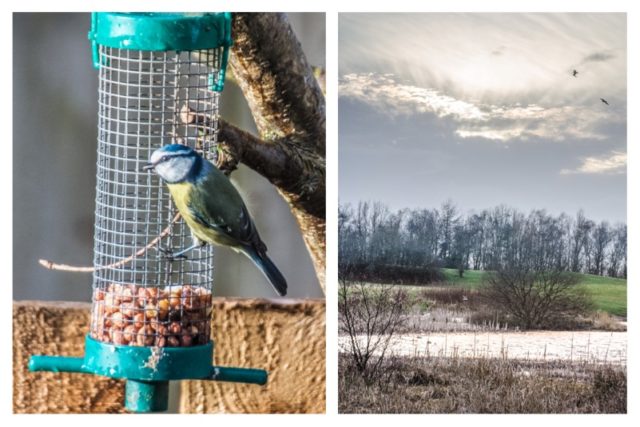 So, what of today then?  Jackie was coming down from Skye to stay for a night before going to Embra tomorrow for a meeting, so the painting room/sewing room/back bedroom had to be cleared of extraneous junk, so that would take up most of my morning.
Got stuck in and was doing quite well until Hazy phoned and then I just had to talk to her, so the clearing up was put on the back burner for a short while, but only for a short while, then I decided to hang some of my recent paintings, so that meant some of the older ones had to be removed into storage, ie hidden behind painting board or anything else I could find.  After a few hours work with extra time for phone calls and gallery reconstruction, it was done.  Well, not so much done as there was now room for anyone to walk into the room, find the sofa bed and possibly, only possibly make it to the window without tripping over some essential piece of tech.  That's when I found that the steam iron had still had some water in its reservoir when I put it down on my PC laptop which was sitting on my printer.  Now both had dripping pools of water.  Oh dear.  The main thing was it was a PC and therefore expendable.  If it had been the MBP it would have been a totally different matter and I wouldn't have been sitting here typing this.  With the aid of a few cloths and some kitchen paper the disaster was averted – I think.  It still works, but the fan is making some strange noises now.  I'll leave it to dry out properly before I investigate further.
After lunch which was soup from a Tesco recipe, good, but not great, I floated around waiting for decent weather to arrive and entice me out to St Mo's to grab some photos. I did get a couple of shots of bluetits on the bird feeder, but they were little more than grab shots. There was a blustery wind and fleeting sun splashes with heavy rain showers in between. Finally, I decided to brave it and just go out into the wild weather and do it.  As you would expect with such blustery conditions, there wasn't a lot to photograph.  Some ducks and swans on the pond and a couple of deer – too far away to be any use – there was little of interest.  I did get a shot of some trees against an interesting sunset sky, but that was it.  What I did do was a stupid thing.  I ran out of shots on the SD card, so had to delete some of yesterday's frog pictures.  In doing that, I accidentally deleted the bluetit pictures from lunchtime.  Unfortunately the D7000 does not have and 'undo' function.  Thankfully when I got home I found a demo of a data retrieval prog – Diskdrill – that allowed me to retrieve the JPG versions of the shots and save them to disk.  You really need the full version of the app, not the demo, to do it properly, but I still managed it.  Thankfully because they were high resolution images I got some editing done.
Jackie and June arrived and we had Trinni stewed chicken and Scamp's Pineapple Snow for pudding with chilli sauce.  Delicious again.
A good night after a wild day.  No plans for tomorrow.