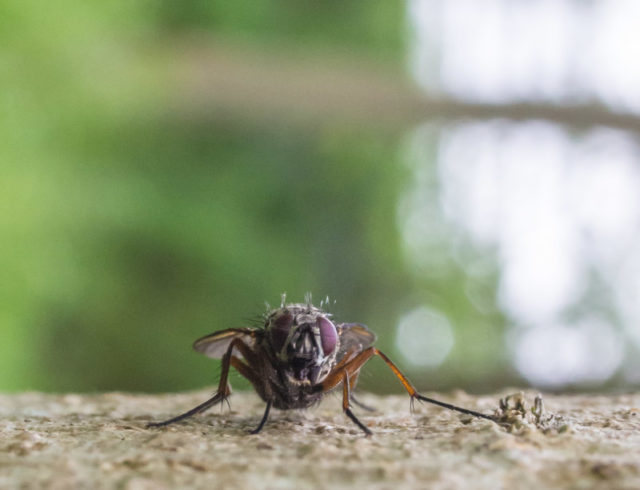 Not dancing ourselves, just watching the shivering and sheiking. All will become clear.
It was a wet, cool and windy Sunday and we could have gone dancing at Mango in Sausage Roll Street, but instead we'd promised ourselves a trip to the Record Factory to see The Shivering Sheiks (y'see, I told you all would become clear). They are a rock 'n' roll foursome who play there every Sunday afternoon. We'd been told they were good and that there were lots of people up dancing to them.
The trouble was they were on early in the afternoon, from 2pm to 4pm, which sort of chopped up the day, but as it wasn't a day for doing anything else, we decided to make the sacrifice. That was until we went out into a heavy rain shower and gale force winds. Also, to make things worse the Juke was parked under a spreading chestnut tree and what it was spreading was its flowers, aided and abetted by the aforementioned gale force winds. Luckily I'd brought along a soft brush, not a painting brush, what my mum would have called a "hearth brush". Maybe we didn't have a hearth, but the brush made short work of the chestnut flowers.
Drove in to Glasgow cursing the stupidity of driving all that way just to hear a rock 'n' roll band. What were we thinking of? Got parked right away, just across the road from the venue and when we went in the Sheiks were in full flow. Rhythm guitar, lead guitar, double bass and drummer. Only a foursome, but the sound filled the place and soon the floor was filled with dancers too. We could have danced to some of the tunes they played and thankfully most of those who did dance were our age group. We stayed for about an hour and a half and then came home, vowing to go back next week and dance, then dance some salsa when it started after the Sheiks had gone.  Scamp had been right again … as usual!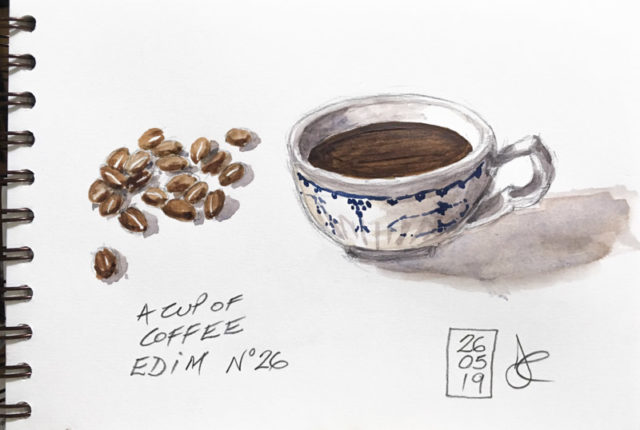 There was just enough time when we came home for me to go out to St Mo's and encourage a few spiders and flies to pose for my camera. That's where today's lovely model came from. After that it was time to plan today's sketch which was A Cup of Coffee or Tea. I chose coffee and to add a bit more to it, I painted some coffee beans too. On the subject of food and drink, dinner tonight was marinaded short ribs cooked for 90mins at gas 4 in the Le Creuset. Very nice. Scamp had 'Rats', or as it's now known "Just some Rats".
We watched a boring F1 GP from Monaco which was the usual procession with so few places to overtake. Then spoke to JIC and discussed plans for Wales.
Weather looks poor for tomorrow too. Much like today it seems. That may decide how far we go and where.