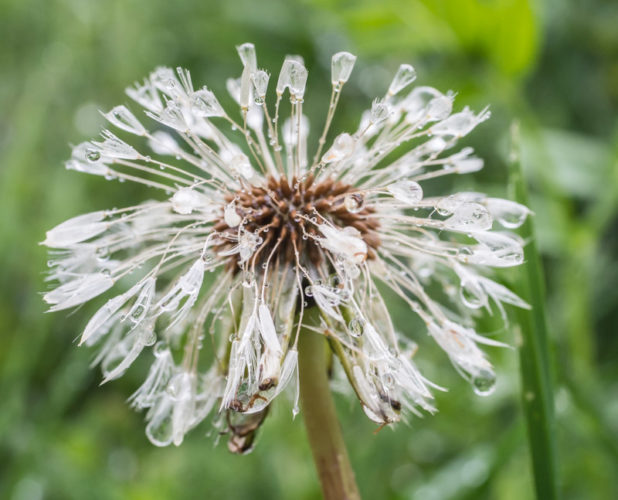 As you will have gathered, it rained today, almost incessantly. I do believe it's raining still.
It didn't keep us in. It almost did, but we both got a bit 'scratchy' and needed to get out, just to see how heavy the rain was. It wasn't all that heavy, just irritatingly wet and constant. We consoled ourselves with the title of the blog. The gardens do need the rain. I tried a sort of rain dance the other day by washing the car, that usually triggers a shower, but it didn't work. It kept the car feeling smooth for a day, but after that the sticky, sugary sap dripped from the trees outside and made it feel like sandpaper again.
We drove to Kirkintilloch to have lunch at Calders garden centre. I attempted a haggis and mozzarella panini, but it must have weighed over a kilo and I had to give up on it. Scamp had the more sensible tuna sandwiches. After that we just drove home. I'd hoped to get a chance to sketch Underwood Lockhouse for today's challenge, but sketching in the rain is no fun. I've tried it and it's just annoying, not to say impossible. If you like random washes on your drawing, then try it, but it's not for me. Instead, we just drove home where Scamp settled down and I just paced the floor. It did wonders for my step count, but nothing for my peace of mind. There was only one thing for it. I was going out for a walk in the rain. To my mind there is nothing more calming than a walk in the rain, especially if you are well dressed for it. I was partly well dressed for it. Down to, but not including my feet I was impervious to the rain, but my old boots were leaking like a sieve. They need to be replaced and soon. However, I just accepted the wet socks and squelching feeling and took some photos to clear my head. My favourite was the waterlogged dandelion clock you see at the top. Others are now on Flickr, if it's working. It's been a bit temperamental since their latest upgrade.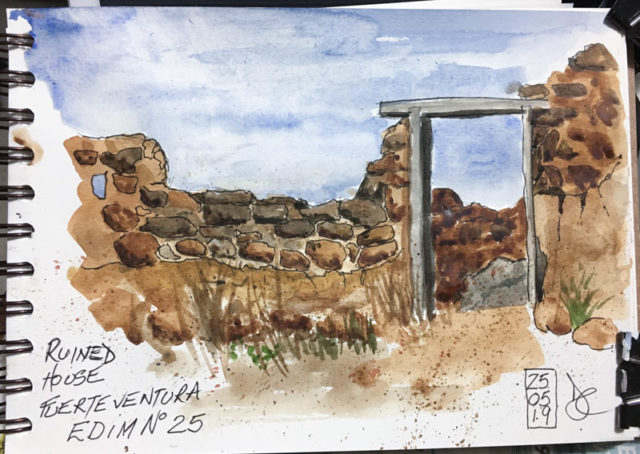 Back home it was time to search out a photo of a ruined building. I still hankered after a drawing of Underwood, but eventually settled on a ruined house near the airport in Fuerteventura. I quite liked the finished result. Tomorrow should be a bit easier: A cup of tea / coffee.
The rest of tomorrow will hopefully be filled with listening to and perhaps dancing to the Shivering Sheiks, then watching a thrilling GP from Monaco where we would have been if we'd taken the option of an early season cruise!