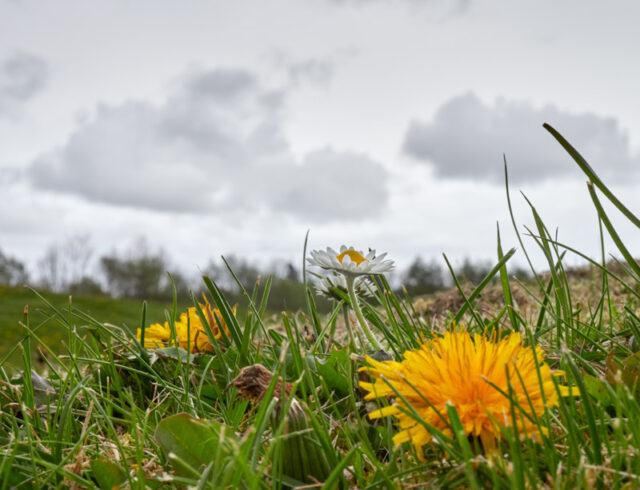 In the morning we went shopping for chicken and fruit and stuff.
I was a bit of a mixed bag of weather today. Some light rain and a few gusts of wind, but overall, quite a good day. We went shopping in the morning, just down to the shops with a walk around St Mo's for me flung in for good measure. That's when I got today's PoD. It was a wee daisy sitting up proud against the sky, with a dandelion flower as supporting act. Walking across the boardwalk I got caught in one of those April showers that come in May. It was heavy, but only lasted for a few minutes. Just one circuit of the pond, then it was time to go home for lunch.
Later in the afternoon I went for a second bite of the cherry and found a great swathe of small white flowers. I couldn't remember their name at first, but knew they was related to Oxalis, then the name came to me, Wood Sorrel. They were interesting, but not as interesting as the Daisy and Dandelion combination from the morning. It wasn't until I was looking at the photos of the Daisy that I noticed a big straggly 'dust bunny'. Dust bunnies are small dark dots on a photo and are caused by dust particles on the sensor. This was a bit of hair or a fibre from a jacket. It was easy to remove from the sensor, but the picture took a while to clean up. I'll probably need to clean the sensor tomorrow to remove any residue.
Dinner tonight was courtesy of Scamp and was Chicken Chilli Pot and although the promised heat was turned down, it was tasty and there's more left for tomorrow's lunch.
Dancing tonight started with the Catherine Waltz. We seemed to do well enough to be awarded a 'pass'. Next was a Cha-Cha and I found it hard to keep up with the music. I'd eventually managed to put together all the parts in the right order, but my feet kept going in the wrong place and too far behind the music! Lastly it was the Midnight Jive which I'm beginning to get to grips with. An exhausting hour.
Spoke to JIC later and hear all his news for down south. How strange it must be to go in to work one day a week and work from home all the rest of the time. I find it hard to come to terms with things like that these days, but for those who need to do it, it must be an even stranger feeling.
Didn't quite have enough time for today's sketch but I'm hoping to catch up with the work tomorrow. That and also the sketch for tomorrow, plus, of course the PoD. So glad I don't have to go in to work, even for one day!