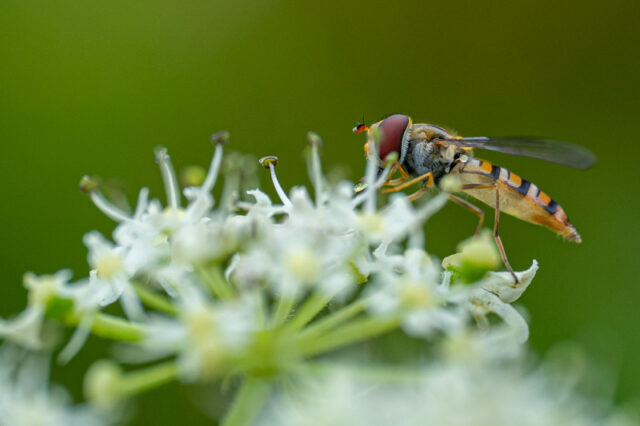 Never happy. We needed rain for the garden, but now we've got it we want it to stop.
This wasn't a day for going out. Scamp wasn't feeling too good anyway and the poor weather put the tin lid on it. What I did do was pack up the Panasonic GX80 that I'm selling to MPB. All the bits are there and even the users manual is still in the box. Well, who reads users manuals anyway. Users only read them if they get stuck and there's never an answer to your problem in there.
After lunch I was getting fractious, so despite the fact that it was still raining I put on my raincoat and shorts (Raincoat to keep most of me dry. Shorts because there's less to get wet!) and went for a walk in the woods. Managed to get some photos of hoverflies on the wing using the Sony with manual focus. Quite impressed with the results. While I was out I found a wasp's nest (called a 'byke' in Scotland). It was in a hole between two tree roots and looked as if it had been dug up, probably by a badger. Loads of wasps working hard to move the grubs and close up the torn walls of the nest. I got a few photos, but then the wasps were taking an interest in me taking an interest on them, so I left them too it. It's the first time I've seen a wasp's nest under the ground.
Dinner for me was two lamb chops cooked under supervision from Scamp who was feeling a bit better by then. I was also cooking her trout fillet and we shared some cabbage and the last of our first lot of potatoes.
Thankfully today was the closing ceremony of the Olympics so now the TV schedules might get back to normal again. We haven't watched much of it. There's so little that interests us.
I've signed up for a five day course on portrait painting using pastels. It's free on a private Facebook page, but the pastels they are recommending amount to around £100 plus a further £30 for paper. I might watch the videos, but I'll be using my ten quid pastels and my five quid paper!
PoD was a pretty wee hoverfly, but the wasps are on Flickr too.
Tomorrow looks slightly better than today, but I don't think we'll be going far.