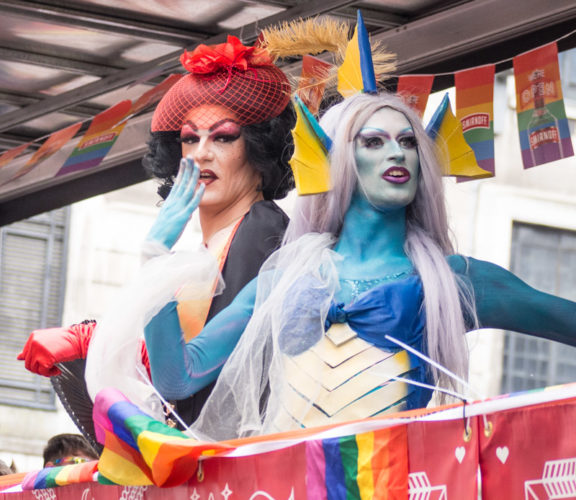 Today we were going to Glasgow on the bus to watch the Glasgow Pride procession.
We decided to be extra lazy today and get the X3 in. That mean the least amount of walking for me.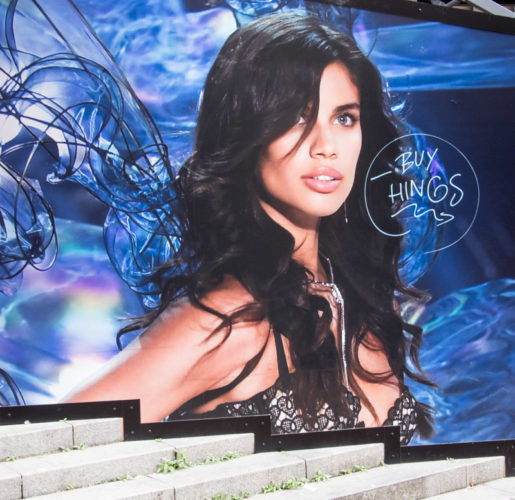 Had the traditional coffee in Nero with a shared apricot croissant to give us the extra burst of energy to fortify us for our walk around the streets. When we left Buchanan Galleries I spotted a neat bit of graffiti on the billboard for Victoria's Secret. Well, the secret is now out Victoria. You just want us to "Buy 'Hings" which translates to Buy Things for those of you living outside Glasgow.
With a photo in the bag, I could relax a bit and we walked down to Argyle Street – me to go to Millers Art Shop and Scamp to go to Next. Neither of us parted with our hard earned money and we met up again. As well as going to Millers, I'd also enquired of some multicoloured rainbow people where exactly the parade would be starting from and was a bit concerned when they told me they didn't know. Hmm, this didn't sound good. However, we needn't have worried, the police van with blue lights flashing and the balloon truck behind at the far end of Argyle Street was a dead give-away.
The parade was a lot bigger this year, with an estimated 12,000 walkers, paraders, weirdos and general hangers-on. Right at the front was Nick the Chick (AKA Sturgeon). Scamp said Nick smiled at her. If she'd smiled at me I wouldn't have been broadcasting that snippet of news. We watched it all from start to finish. Just about 45 minutes of lunacy, but good humoured and colourful lunacy. Contrast that with the Orange Walk last week which is also lunacy and colourful lunacy, but hardly good humoured. As well as the PoD there are some photos on Flickr of the procession and some of the characters, therein.  In total I took 361 shots today.  Most of them were taken in 'motordrive mode', where you just keep the shutter button pressed and hope for the best.  It works most of the time.  I've whittled those 361 down to 60 usable shots of which 5 made it to Flickr today.  Maybe I'll post some more in the coming week, all being well.
After I bought a couple of watercolour paints, we went to Zizzi for lunch and were both disappointed with the quality of the food, but the two glasses of wine we had were lovely, although each of us preferred our own different choice of wine. Maybe it's because it was white wine we were drinking instead of our traditional red, but we both agreed they were refreshing. Contrast that with two insipid pasta dishes. Oh well, a lesson learned. Should have gone to Sarti's much better to go to a small restaurant than a chain.
Just managed get seated on the X3 going home when the bus left the stance. Good timing for once. Sat in the garden when we got back. Scamp finished off the remainder of a bottle of red we'd opened the other night and I had a bottle of cider. It was comfortably warm with a nice welcome breeze. Looks like there will be a fair amount of rain tomorrow. At last.
Don't expect we'll be going far tomorrow, but we'll wait and see.