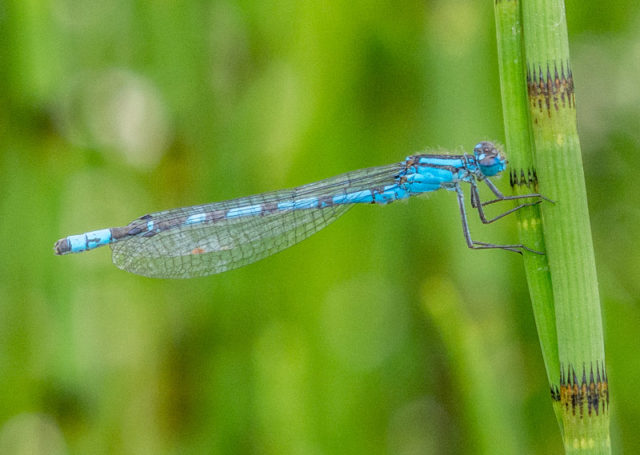 You couldn't say it rained today. It barely wet the ground, it certainly wasn't the downpour that was predicted.
Couldn't decide what to do with the day, but eventually Scamp suggested we go for a swim and that was what we did. Since my leg wasn't quite back to normal, I thought a swim would be better than gym today. Pool was busy, but with hotel visitors this time, not spa punters. There were the usual fatties making a floating moveable island in the middle of the pool for others to swim around.
Went over to St Mo's in the afternoon and got some photos of the insect life, but nothing interesting, except perhaps the shot above of a damselfly planking to show off its abs.
Dinner was a disaster. It was meant to be an authentic Chinese stir-fry using tofu, bean paste and black fungus! I tried sticking to the recipe, but the bean paste just fried itself into a solid lump … twice! Gave up and stir-fried the veg in the oil of the bean paste, then mashed up some beans with a mortar and pestle and added it with some hot water. Put the fried tofu in at the end and let it steam to cook the carrots. It tasted ok, but not really like what we had tasted when it was demonstrated at Gardening Scotland. Maybe we'll stop for chips on the way home from salsa 😉
Saw a flash of lightning over the hills when we were driving in to salsa. Didn't hear any thunder and the rain stayed away too. Hopefully the worst of the thunderstorms have passed us by.
There weren't really enough people to make up a beginners class, and too many men again, so I stepped out … again! This time I didn't have a sketchbook, so I'm sitting in the car, on a huff, writing the blog instead. Blog or sketch, both take about half an hour to complete. If I get one or the other done, it's time not wasted.
Looks like the 7.30pm class is ending as well as the beginners. If it does, that will mean the end of our Wednesday exercise! That would be a shame.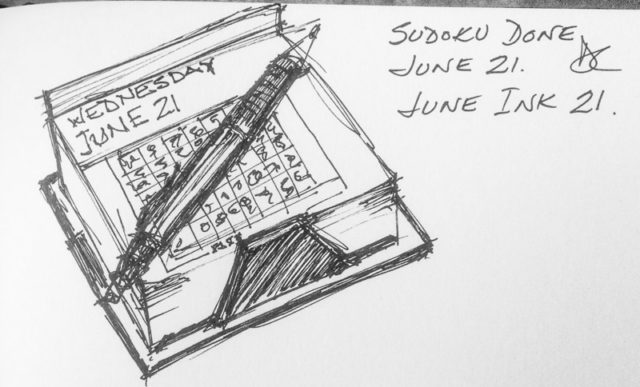 Finally settled on an old favourite for the SoD (I like that abbreviation!), the Sudoku block. Trying out the Paperchase sketch book. Not nearly as much 'tooth' as the Seawhite one. Not sure I like the lack of texture.