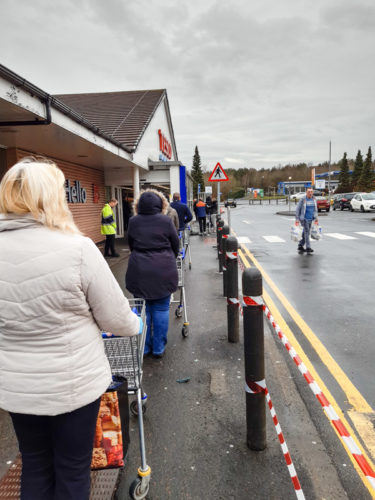 Scamp's prescription was ready to collect. An excuse for us to go for a drive as far as the chemist and Tesco.  Scamp offered to drive and I accepted.
When we got there she went to the pharmacy queue and I went to the Tesco queue, agreeing to meet at the car. Both queues were equally long, in fact mine was probably longer, but more efficiently managed. Everyone was being careful to keep the required 2m from the person in front. It wasn't until I was in the queue that I realised I didn't have any bags with me, neither did I have a hat or gloves. The bags would be in the car, but not my car, Scamp's. I could have walked along and borrowed her car keys, got the bags and taken the keys back, but when I looked behind me, the queue was even longer than when I'd joined it. So I just pulled up my hood, plugged in some music from my phone and waited, occasionally shuffling along while maintaining that 2m distance. Then I noticed everyone else, apart from me, seemed to have a trolley. I'd missed a trick there too. Not to worry, there wouldn't be much in the store and I had only a small shopping list.
Finally got into the store, grabbed a basket and sanitised it. Compulsory it seemed. First check the pasta shelves. Glory be, they had pasta. Loads of it. Grab a bag, maybe two? No, that's greedy, one will do. Looked behind and they had rice too! Loads of it in a couple of versions. Rice was on my mental list, so two bags of Basmati. Now, they wouldn't have toilet rolls, would they. THEY HAD TOILET ROLLS!!! I took just one pack of nine rolls, don't want to look like a stockpiler. Eager to get out of the store with my ill gotten gains, I forgot to get a tin of tomatoes or beans to put in the Food Bank box. Just get these essentials, and also some flowers for Scamp and go.
Then I realised I didn't have the car key. Went looking for Scamp but I couldn't see her in the queue. Looked inside and there was the red wooly hat. There aren't two hats like that in the world. Walked back to the car and waited. Eventually she arrived carrying a bit bottle of medicine. We drove home and I unloaded my goodies. Oh, the excitement of unpacking, not only macaroni and rice, but also Toilet Rolls. How our lives have changed in a mere three weeks.
Tesco seem to be on top of the rationing and their systems are beginning to respond to the excessive demands of the greedy few. It's good to see that at least someone is taking charge of things.
Toyed with the idea of going out to St Mo's for a walk and to grab a photo, but PoD had already been taken with today's shot I'd got of the of trolley dollies queueing outside Tesco. Instead of walking and photographing, I pinned a piece of Galleria Acrylic quality paper to my drawing board, mounted the board on my easel and proceeded to slap some acrylic paint on it in a representation of a landscape I shot at the start of January, when the world was still young. Tomorrow, when it's dry I may slap some oil paint on top in a method recommended by the portrait artists of the year hopefuls. It won't be a beautiful picture (it might), but it will make me think of other things than self isolating and social distancing.
While I was painting, Scamp was writing out the moves for seven sequence dances, one for every day of the week. That's her substitute for painting. Whatever get you through the day. Spoke to my cousin Margaret in Lesmahagow tonight. She and Billy are also self isolating, but she said we'd all meet up again, probably next year "when this has all blown by". That will be something else to look forward to.
At 8pm, on the dot the clapping started from somewhere in our square.  I think it was  the bloke who lives along the road at the corner, Wullie.  I'd forgotten that someone had decided we should all go outside at 8pm and applaud the nurses, doctors and in fact anyone in the NHS who works so hard to keep us safe and healthy.  So that's what we did, we added our applause to the folk that were making their thanks heard.  There were even some fireworks too.  It was a sign of solidarity I suppose.
Tomorrow, beside a possible day in the art room, we may do a bit of dancing.