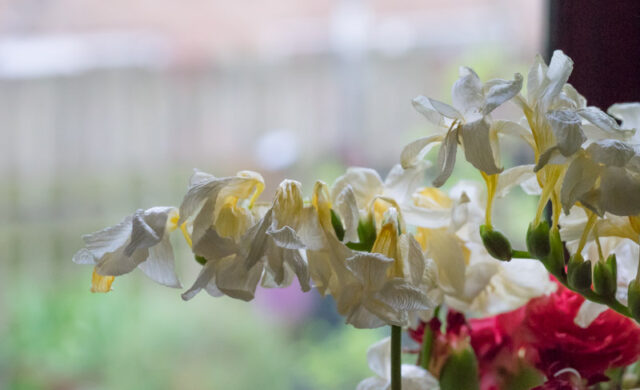 Indeed it was. When I was making breakfast this morning, I detected some ripples on the bird bath in the garden.
It was actually raining. The first rain we've had in weeks. It's not often I get to say that. The rain stayed all day. Not constant, but just the occasional shower and not heavy either. Just a gentle dampening of the ground.
I spent most of the afternoon playing real live 3D Tetris, trying to fit six different shaped boxes into one larger box. It was one of those irritating puzzles that should be possible, but wasn't. I think I've managed it now, but even Scamp who is excellent at fitting things into boxes to be posted south at Christmas couldn't find a better use of space than I'd managed. One camera and five lenses off to find a new home somewhere, probable never to meet up again, ever. I felt quite sad.
With that done and most of the afternoon gone, I went for a quick walk in St Mo's to see if there was anything worthwhile photographing with one of the remaining cameras. The best I could find was a couple of clumps of Cowslips, but one was past its best and the other had still to achieve full flowering. I didn't come home empty handed, but close to it.
After dinner I grabbed a few shots of some cut flowers sitting on the kitchen window ledge. Just a few white Freesia and a red Carnation. Lovely looking texture in the freesia and the carnation added a much needed splash of colour. PoD nabbed, just before dance class started.
Dance class tonight was Bossa Nova. What my latin teacher at school delighted in telling us fourteen year old boys meant New Beat. He even asked us if we'd heard of the dance. The only dances we knew back in the early '60s were the Dashing White Sergeant and the Military Two Step and nobody would admit to knowing even them. Dancing was for girls and weddings. I do believe he was disappointed in our lack of enthusiasm.
My own enthusiasm for bossa nova is at the same level as it was in the (not so) Swinging Sixties. I struggled through it tonight and managed about two thirds of the routine. The final third is a mystery to me. We did an acceptable Tango and finished with the Valentino Jive and Rumba One both of the last two are sequence dances which I've grown to accept as worth learning.
Watched an interesting Italian GP with thrills and spills galore. It got even better when a full on fist fight looks as if it would develop. Spoke to JIC and heard more about their plans for houses and work. Good to see them getting on. They both deserve it because they both work hard.
Tomorrow we are hoping the DPD man will arrive with a box of fish for us. Dinner may still be spaghetti, but I'm willing to come and go on that score.