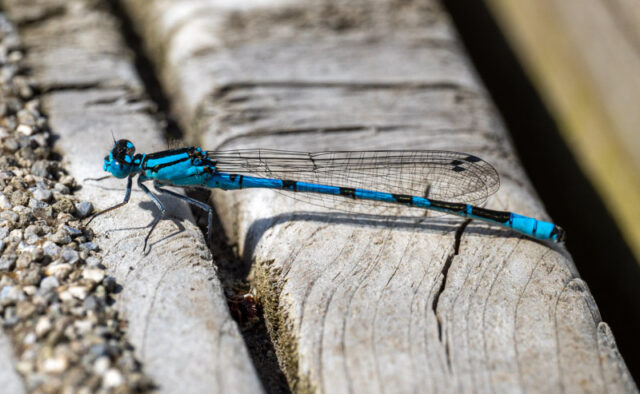 I don't know how far up the tube the little cylinder of mercury got, but it was quite far.
Not as far, perhaps, as the others in the family who are further south than us. Temperatures there were close to 30º by all accounts. Thankfully we had a cooling breeze to keep us in a more temperate climate. That said, we were still pretty warm and with blue skies and occasional clouds, the world was looking quite good.
We did a bit of gardening maintenance in the afternoon and then we both went for a walk in St Mo's, but there was little insect activity, probably on account of the strong breeze through which the dragonflies might navigate, but the poor little damselflies would find it a struggle. Scamp and I went one circuit together before she left to do some more gardening with the option of a seat in the sun later. I carried on for another round of the pond.
On that second trip round I did find a Common Blue damselfly sitting quite happily on the boardwalk warming itself in the sun. It was a bit skittish, so I took my time stalking it and grabbed a few shots before I heard heavy footsteps behind me as a young couple passed. That was enough to scare off my Common Blue. Strangely, the girl turned and looked at me as I apologised for almost blocking their path and I'm sure she was a former pupil. She was probably wondering what her old teacher was doing sprawled on the boardwalk. Possibly she would come to the wrong conclusion that I'd been consuming intoxicating liquor! That would come much later in the day.
The common blue was the best shot of the day although I did go further afield in search of something larger, but there were no dragons flying today.
I came home and found Scamp in the back garden, reading, so I made her a Pimms and had a can of lager for myself. I then spent a comfortable half an hour in the sun, listening to my next Audible choice which is book 10 in the Inspector McLean series by James Oswald. Then it was time to get dinner sorted.
Tonight, dinner was Crab and Chilli Linguini. I was being ultra-careful as crab is really quite expensive, but most of the hard work had been done for me because I was using dressed crab that had been in the freezer for a month or so and came from a company JIC had recommended. The dinner was good, but not great. My fault, or my recipe's fault, certainly not the crab's. Too dry was the general complaint from both of us. Maybe next time I'll make a better job of it.
No dancing tonight. Not our fault, but problems with internet connection at the teachers' end. After a couple of near things, it was declared a no-show and as nobody seemed to have a free evening this week, normal service will hopefully be resumed next Sunday. We did have our own practise in the living room as all the furniture had been organised for the class.
Spoke to JIC and heard about all the trials and tribulations of house hunting down south. They really are finding some strange houses and even stranger sellers. Also we learned that there are swimming pools for dogs down south. Isn't that what ponds and lakes are for?
Annette is coming to visit tomorrow for lunch. Other than that, nothing planned.