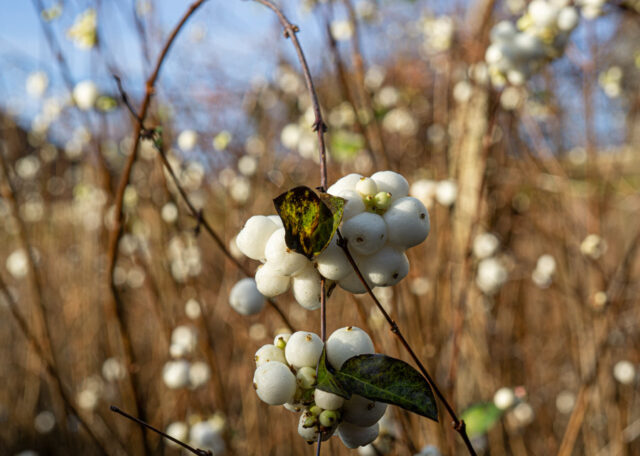 But then it changed completely, just as the weather fairies had predicted.
I was out fairly early this morning. Collected my meds. Tuesday must be sick day because today, Wednesday, there was no queue outside the chemist and only one person in front of me inside. Next I posted a small parcel down south, Hazy. I'd a short list of things to get in Tesco while I was there and with that done, I drove home with the sky lightening all the time. It was beginning to look as if the weather app on my phone was going to be on the money with its claim for sunshine by 11am.
After a morning coffee I sat and wrote an email to Alex. Just keeping in touch and moaning about the weather. Then I grabbed my cameras and went for a walk in St Mo's looking for something scenic in the sun.  It was cold, but at least the sun was shining and the sky was blue. On the way there I took a shot or two of the Snowberry bushes that grow beside the paths near the house. They're well named with their bunches of white berries that look like little balls of snow. Since I was out fairly early, I thought I might get a shot of one of the St Mo's deer. I did, but it was just a tiny speck in the distance. If you didn't know it was there you'd miss it. The wee pond up next to the motorway exit slip road was looking good with the blue sky reflecting in it and the rusty coloured larches contrasting. I took quite a few of that scene, knowing that most would be culled in the first editing pass. Took some macro shots of the cow parsley seed heads, but I know I sometimes overdo them. I take so many, most of them fall on the cutting room floor too.
Back home, the DPD man came and took away another, larger parcel away to go down south.  It must be somebody's birthday soon.  Then, and after lunch we discussed what to have for dinner. There's not really much to debate, it's Wednesday, so it's got to be fish and probably chips. That's when the postman arrived with a parcel for us from Hazy. It was a culinary advent calendar. Instead of doors, it has little cardboard holders with a sachet of spice or herbs in each one. At least that's what we're guessing is in them because Hazy has carefully covered the list of what's in each day's sachet. Smart girl! Scamp opened today's which tasted like curry leaves in sea salt. I chose to make potato wedges instead of chips with the fish and we usually sprinkle them with a basil and salt mixture that Val brings back from Rome for us. Instead, today, we sprinkled Fleur de sel (Roasted Sesame, Coriander, Garlic, Cumin and Fenugreek). It was totally different from our usual basil salt and made a refreshing change. It's my turn to open tomorrow's packet. Thank you both!
Today's PoD turned out to be the Snowberries. I liked it right away, which is always a good sign.
Tomorrow I think we may go shopping. Maybe just to Tesco, although we did book a Tesco delivery today too, but that's for later in the month.