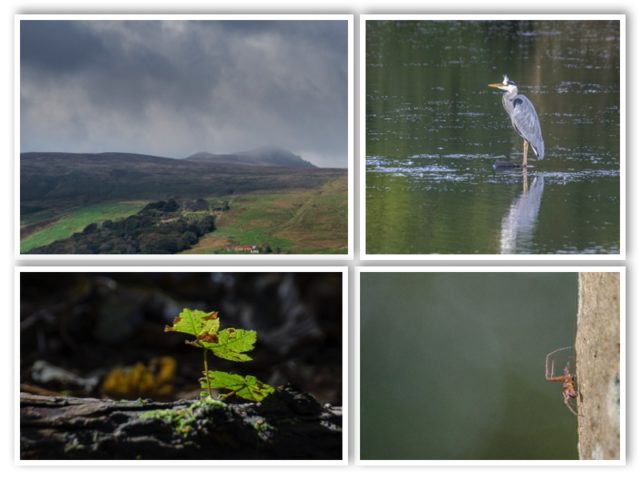 The bloke who was going to take down that bloody aerial failed to turn up today.  Different bloke from the last time, different day, same result.  Now he says he'll be here tomorrow.  Do we believe him?
Went out early for some photos in the sunshine in St Mo's.  Got one of Mr Grey preening.  Unless he's lost a lot of weight, I don't think this is the real Mr Grey, more likely it's a body double.  The real Mr Grey has probably flown south for the winter and he's arranged this substitute to make it look as if he's still here.  The body double probably even collects the real Mr Grey's Giro.  Yes, I know that we don't do Giros any more, but unemployed bird still use them, because they don't do internet banking.  Anyway, the green leaves were growing from a storm felled tree.  There must have been enough continuity between trunk and roots to keep the transfer of sugars and starches.  The landscape is from St Mo's and is of clouds breaking over the Meikle Bin above and beyond Kilsyth.  The wee spider was climbing a tree and if you look closely at the Flickr version, you will notice that he's got his safety rope securely fixed to a branch.  Even spiders have to be careful these days.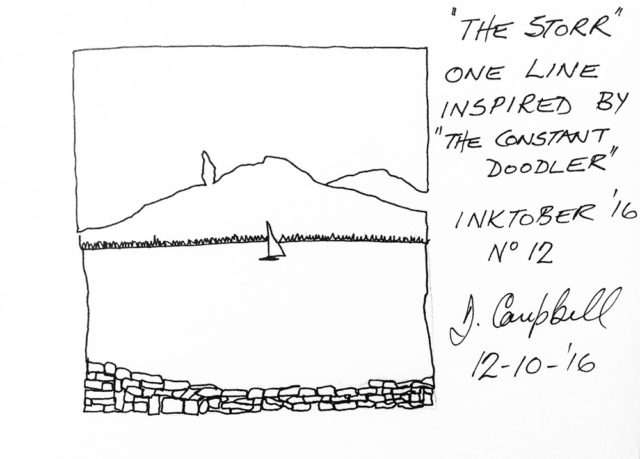 I've been following "The Constant Doodler" and today's Inktober sketch is my first attempt at his signature One Line drawing where his pen never leaves the paper until the drawing is finished.  It's much more difficult than it looks.  Try it sometime and you'll discover just how much planning is required before you start.
Other than that, it was another dull day after the promise of the morning's weather.  There was a bit of rain in the evening and more if forecast tomorrow.  Maybe that will give the aerial man another excuse to avoid the demolition of the bloody aerial.  But then you never know.  Maybe tomorrow we'll be celebrating the removal of this piece of roof architecture.