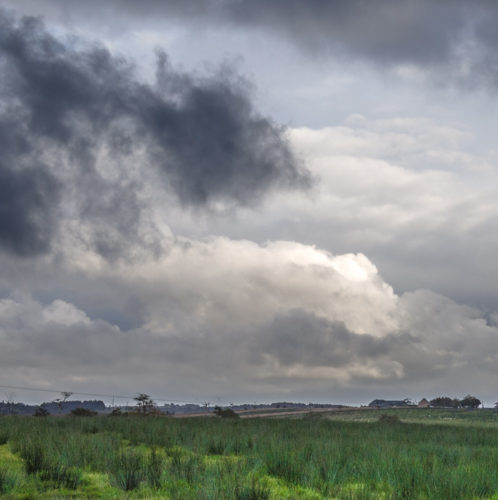 He came!  He actually came and within twenty minutes the aerial was down and dismantled.  The aerial man gave us back the sound of silence.  To paraphrase Stuart MacBride's heroine Detective Chief Inspector Steel, "Seventy five quid plus VAT? My sharny 1 arse!"  This guy did the job and we thank him very much … we did pay him too.
Earlier in the day, Scamp met her aunt and managed to establish the identity of a great many people in a sixty year old wedding photo.  It made me think that in today's world where so many of our photos, even wedding photos are not printed, how will we perform a similar task in the future.  Will we still be able to view those videos on their lovely shiny DVDs engraved with the movie highlights of today's wedding groups?  Will the photos that are printed using ink on 'archival' paper last for sixty years?  Will the resolution of the full frame CCD be as good as the old fashioned 6×6 TLR?  Not a chance.  The other thing we need is to record the names and fit them to the faces of the people in those photos.  I realised too late, after my father died, that I'd lost touch with all those people whose faces I saw in the old photos.  They were also dead, but they had also taken their identities with them.  What I urge you to do is to record, preferably in ink and on paper, the names of the faces in your old photos, and if you don't have physical photos, print them out on the best quality paper you can afford.  It's not for you, it's for the ones who come after you.  They are the ones who will be left scratching their heads after you can't be relied upon to enlighten them.
Today's PoD was taken on the east of Fannyside Moor looking towards Slamannan.  It's a great place for Big Skies and this certainly was a big sky.  I like it because it's a place where you can just watch the clouds rolling past without cars constantly zipping past.  The only traffic today was a lady on a bike who was riding a tail-wind.  I hope she had already cycled the head-wind part of the route and was on her way home.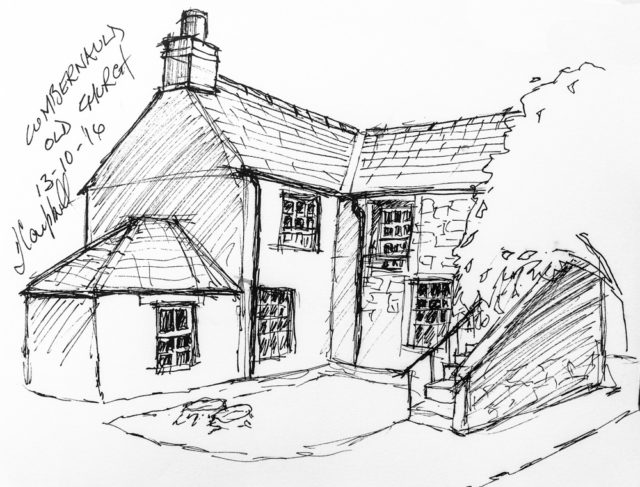 Today's Inktober drawing was of the church in Cumbernauld Village and is a building I've been meaning to draw for some time.  It really is the most awkward shape with bits apparently added on at different times in its history.  The windows, especially seem to have been placed wherever the builder found a space for them.  Only the tops of the upper windows line up properly and some have lots of small panes of glass while others have fewer, larger panes.  In all, I was pleased with the finished sketch, probably even more so because I sketched it in the open air.  I'm not French, so why should I call it en plein air.  That's just being a poser, or should that be poseur?
Tomorrow is unplanned as yet, but it will not include listening to the crows landing on that aerial or dreading the screech of it rotating in its rusty bracket.  The bracket is gone, the pole that held the aerial has been recycled and the aerial itself is in a skip.  I love the sound of silence.
---
Befouled with dung.  Merriam-Webster ↩