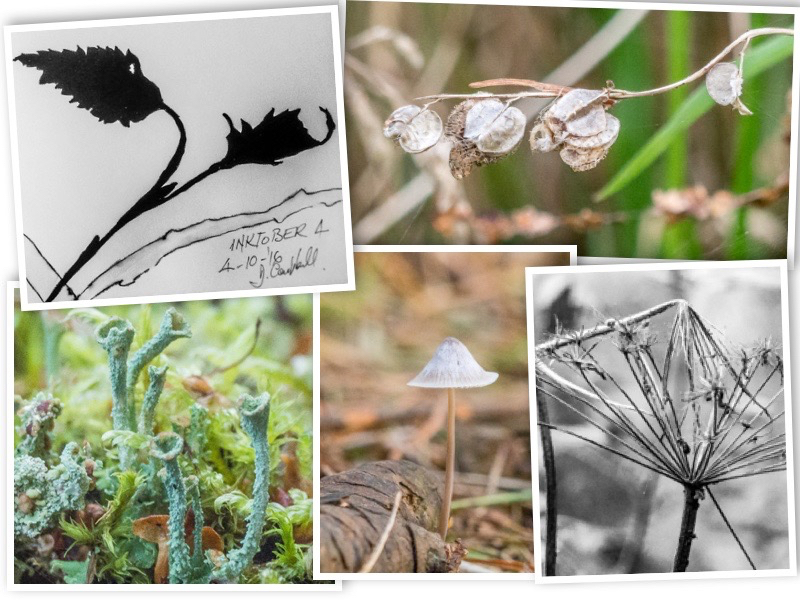 Not just brighter with sunshine, although it was a sunny day, but brighter on the computer front and in my general demeanour, as a result.
I stapled a prepped sheet of watercolour paper to my painting board, built up my easel and started getting a landscape out of my head and on to the paper through the medium of oils. It was partly successful in that, although the landscape wasn't the best I've done, it was a refreshing experience working in oils again. I'm going to try the same landscape again soon in a different medium, perhaps pastel. It's years since I last painted in pastel, probably not since I was doing my Higher Art about 25 years ago! I've dug the pastels out and found some pastel paper, so there's no excuse not to get started.
Today's photos come from a walk through St Mo's today. The toadstool made me think of a poem by Elizabeth Fleming which might ring a few bells with two or three of my readers, although it was a long time ago, even further away than when I last used pastels! I was amazed at the detail that appeared in the little seedpods and of course the Blue Trumpets always look so unearthly. They always make me think of the moon landscape in the Clangers. Google it if you don't know what I'm talking about. Oh yes, and there's a shot of Mr Grey on Flickr too. The sketch is for Inktober – Google it.
Settled down to the fact that I've lost all the rules I made up in the Hazel app, and realised that most of them were redundant now. I've re-written the ones I use the most and will write more as I feel the need. I'll also back the bloody things up this time. Lesson Learned!
That's about it for today. A beautiful bright day, if a trifle cold. A cold trifle would be nice too!